South African data center provider Teraco has broken ground on a second facility at its Bredell campus in the Ekurhuleni area of Johannesburg.
"Following the completion of Phase 1 in November 2022, construction is now underway on JB4 Phase 2, which will further enhance Teraco's capacity to meet the growing demand for data center services in the region," the company said on LinkedIn this week.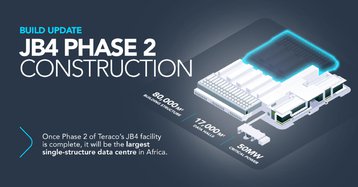 "The JB4 facility offers highly resilient and secure colocation facilities, and at the end-state, it will comprise 80,000 square meters (861,110 sq ft) of building structure serviced by 80MW of utility power supply servicing 50MW of critical power load."
The company broke ground on the campus in November 2020. The first phase of JB4 comprises 30,000 sqm (322,920 sq ft) of building structure, 8,000 sqm (86,110 sq ft) of data hall space across eight halls, and 19MW of critical power load.
At the launch of the first phase last year, Teraco said it had secured adjacent land and power for Phase 2 expansion, which would take the site to 60,000 sqm (645,835 sq ft) and 50MW.
Founded in 2008, Teraco operates seven other facilities in South Africa across Johannesburg, Cape Town, and Durban totaling 75MW and serving more than 600 customers. Digital Realty acquired a majority stake in Teraco in January 2022, in a deal valuing the company at approximately $3.5 billion.
Across Johannesburg, Teraco currently operates four data centers and a teleport across four campuses.
A 30MW facility, known as JB5, is currently under construction at the company's Isando Campus in Ekurhuleni, where JB1 and JB3 are located. The new hyperscale data center facility is scheduled to be completed by 2024.