Fresh off the back of completing its JB4 data center, Teraco said that it has broken ground on its next big data center, JB5.
The new hyperscale data center facility is scheduled to be completed by 2024, with the facility housing 30MW of critical power load at its Isando Campus in Ekurhuleni, east of Johannesburg, South Africa.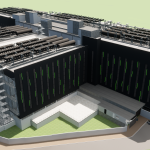 According to Teraco, which was recently acquired by Digital Realty, JB5 will utilize the latest environmentally sustainable cooling and water management designs that incorporates 100 percent free air cooling.
JB5 will become Teraco's eighth data center development to be located in Ekurhuleni's Aerotropolis, with the data center to be located on 55,000sqm of building structure serviced by 120MVA of utility power supply.
Teraco says that it's strategically located in the Isando Campus alongside JB1 and JB3, Africa's most highly interconnected facilities with over 14,000 interconnects.
"South Africa is a springboard for cloud provision into Africa and, as a result, has become the technology and data center hub for sub-Saharan Africa," said Teraco CEO Jan Hnizdo.
"Massive global investments into undersea cables, like Equiano and 2Africa, further strengthen this position. This will enable global cloud providers to service not only the South African market but also the rest of the sub-Saharan African region."
The data center is set to be built in a single phase, it says in a press release, with this split into 12 halls, each at 1,000 sq m, while it will augment the existing portfolio of ISO9001, ISO27001, ISO50001, ISO14001, PCI-DSS, and ISAE3402-certified data center facilities.
Founded in 2008, Teraco operates seven other facilities in South Africa across Johannesburg, Cape Town, and Durban totaling 75MW and serving more than 600 customers.
Digital Realty acquired a majority stake in Teraco in January of this year, in a deal valuing the company at approximately $3.5 billion.