South African data center firm Teraco has completed the first phase of a new data center in Cape Town, South Africa.
The company said it had completed Phase 1 of CT2, its new hyperscale data center in Brackenfell, Cape Town. The first phase comprises 25,000 sqm (269,000 sq ft) of building structure, 8,000 sqm (86,100 sq ft) of data hall space, and 18MW of capacity. Teraco has secured adjacent land and power for future expansion up to 36MW.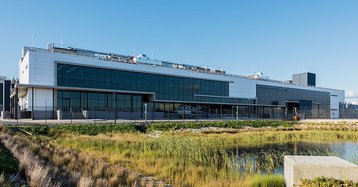 The company didn't disclose an investment price, but said it was a "multi-billion-rand data center facility." The company raised $170 million (2.5 billion rand) for construction projects earlier this year.
"Forming a vital part of the African IT landscape, Platform Teraco is an essential part of the modern enterprise's digital transformation strategy with its diverse industry ecosystems and open interconnection marketplace," said Jan Hnizdo, CEO, Teraco. "Enterprises are looking for the ability to scale as network strategies evolve, and in a world where fast and secure interconnection with strategic business partners is a priority, this is a source of competitive advantage."
The CT1 facility in Cape Town's Rondebosch area has 2,500 sqm (21,500 sq ft) of data hall space and 5MW of capacity.
The company has five data centers in Johannesburg, one in Durban, and two in Cape Town. In August, Teraco completed the JB3 at its Isando Campus in Ekurhuleni, Johannesburg.
More capacity in South Africa is needed, but the continent of Africa needs more capacity across its length. Back in February, the African Data Centres Association said Africa needs 1,000MW and 700 facilities to meet growing demand and bring the rest of the continent onto level terms with the capacity and density of South Africa.
In February it was reported that Teraco is considering expansion into Kenya and Nigeria.
More in Construction & Site Selection