Teraco Data Environments has raised 2.5 billion rand ($170 million) to fund its data center construction efforts.
The loan financing was led by Johannesburg-based lender Absa Group and will be used to finance the construction of its 38MW hyperscale facility in Johannesburg.
Teraco borrows to build massive data center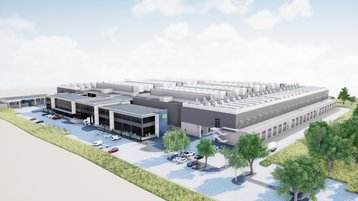 Teraco is Africa's largest data center company and currently operates six other data centers at five locations across South Africa totaling 73MW of capacity.
The company broke ground on its new 50,000 sq m (538,000 sq ft) JB4 facility in November. Due for completion in Q1 2022, the new data center will be the largest single-site data center on the African continent
"We do see continued growth in South Africa and this will form a big part of our focus for the next two to three years," said chief financial officer Samuel Erwin. "We are focused on growth, which is always capital intensive, and that means we will always be capital hungry."
"Absa has continued along the growth path with Teraco. Their understanding of our business model and funding requirements and ability to offer tailored funding solutions to suit our needs has contributed to Teraco's success" he said.
2020 also saw Teraco make large-scale expansions to its CT2 data center in Capetown as well as its Isando Campus in Johannesburg where it houses two data centers. Those expansions were funded by Berkshire Partners, Permira Holdings, and Absa Group.
Last year Liquid Telecom, one of the largest network operators in Africa, raised $307 million to fund data center expansion across the continent.