Stack Infrastructure has completed work on its newest data center outside Portland, Oregon.
The 180,000 square foot, 24MW POR3 facility in Hillsboro is the company's first building at its new 30-acre 84MW Portland campus. Stack said only 12MW of the first phase remains available due to pre-leasing activity. The new facility, located at 4735 NE Starr Blvd, will be powered by 100 percent renewable energy.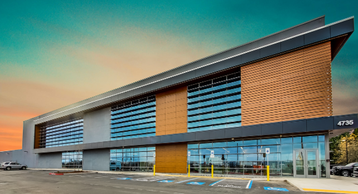 Stack noted that as well as no sales tax in the State of Oregon, POR03 is located within Hillsboro's Enterprise Zone, granting up to 100 percent property tax abatement for eligible businesses on new qualified capital assets for up to five years.
"Today's announcement of Stack's continued growth in Portland embodies our dedication to investing in core data center markets to support our hyperscale and enterprise clients," said Matt VanderZanden, Stack chief strategy officer. "In choosing to continue to invest in Hillsboro, Stack empowers its clients to achieve their scalable data center infrastructure and sustainability objectives."
The company broke ground on the Portland campus in October 2020 and originally planned for POR3 to come online in Q3 of 2021. Stack expects to build around four data centers on the site but hasn't shared proposed timelines for future buildings. The company already operates two facilities totaling some 50MW in the Hillsboro area.
Stack – launched by investment firm IPI Partners in early 2019 after merging former Infomart and T5 assets into a new wholesale colocation provider – is developing facilities in Tokyo, Japan; Northern Virginia; and Toronto, Canada.
More in Construction & Site Selection