SpaceX is to erect a temporary satellite ground station in Fiji in the wake of the volcano eruption that severed Tonga's subsea Internet cables.
FBC News reports that the company already has staff present on the island to build the facility.
"A @SpaceX team is now in Fiji establishing a Starlink Gateway station to reconnect Tonga to the world. Great initiative, @ElonMusk" Acting Prime Minister Aiyaz Sayed-Khaiyum tweeted.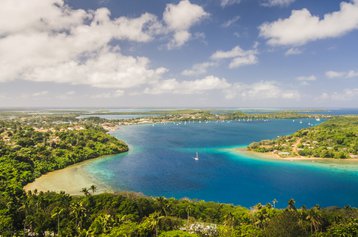 Sayed-Khaiyum said the engineers would establish and operate a temporary ground station in Fiji to provide an Internet gateway for Tonga for six months. He also said SpaceX has shown interest in providing Internet services in Fiji and the government will advance discussions should they put forward a proposal in full.
"Space X had applied for a temporary emergency telecommunications license ... SpaceX and Fiji International Telecommunications Pte Limited are currently, however, in commercial negotiations to co-locate the earth station and connect to Fiji's Internet gateway," he said.
Last month, a large underwater volcano erupted close to Tonga, triggering tsunamis reaching heights of almost three feet in places. Both the international Tonga Cable – laid in 2013 and running 827km to Fiji – and the Tonga Domestic cable connecting the islands of Vavaʻu, Lifuka, and Tongatapu were damaged, and repairs are ongoing.
In the wake of the disaster, SpaceX CEO Elon Musk offered to provide Starlink services to the island, tweeting: "Could people from Tonga let us know if it is important for SpaceX to send over Starlink terminals?"
While some local services are operational in the main cities and some satellite Internet is available – more so after a block on Kacific providing services in the company was removed – connectivity in the country remains limited.
The country is currently relying on satellite communications, but capacity isn't keeping up with demand. CEO of Tonga Communications Corporation, Sione Veikoso, told Matangi Tonga that the company is progressively bringing in more satellite bandwidth while waiting for the fiber optic cable to be repaired.
"The total capacity that we are providing at the moment is more than 250 megabits per second," he said. This represents about one-eighth of the amount of bandwidth that Tonga needs to restore normal communications," he said. "We need more than 2,000Mbps in order for us to be able to feed the whole data demand for Tonga, so that includes mobile Internet, business customers, fiber customers, ADSL customers; all of these need more than 2,000Mbps."
Intelsat is providing space-based emergency broadband connectivity to the country via its Horizons 3e and Intelsat 18, while partners Telstra and Spark are providing the ground infrastructure, including VSAT hubs at their teleports, uplink, internet access, and remote kits. Intelsat previously provided satellite capacity to Tonga via Horizons 3e and Intelsat18 during its 2019 outage.
Repairs to the broken cables were originally expected to take around two weeks, but are looking likely to take longer. Tonga Cable Ltd. has told Matangi Tonga that an ROV (remotely operated vehicle) from the cable repair ship Reliance could not locate the break, which has likely been moved due to shockwaves or mudslides.