Tonga is likely to be without its subsea cables for weeks in the wake of an underwater volcano eruption and subsequent tsunami.
On Saturday, a large underwater volcano erupted, triggering tsunamis reaching heights of almost 3 feet in places. The eruption at 04:10 GMT of the Hunga Tonga-Hunga Ha'apai underwater volcano, located about 65km (40 miles) north of Tonga's capital, Nuku'alofa, caused a 1.2-meter tsunami, Australia's Bureau of Meteorology said.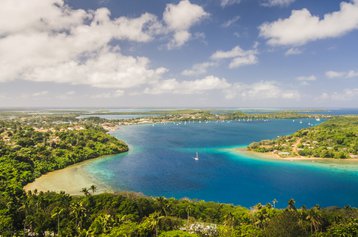 Reports suggest that while homes have been flooded and families evacuated, there are no currently-reported fatalities - however, due to the lack of information, this may not be accurate. New Zealand and Australia are sending surveillance flights to assess the extent of the damage.
The international Tonga Cable, laid in 2013, runs 827 km to Fiji. The Tonga Domestic cable connects the islands of Vavaʻu (landing at Neiafu), Lifuka (Pangai), and Tongatapu (Nuku'alofa); it was laid in 2018.
Stuff.nz reports that Southern Cross sales director Craige Sloots initially said on Sunday morning that it was not clear if the fiber cable had been cut or had just been disabled because of a loss of power; he later said the cable was 'looking ok' before noting there might be "slightly worse news."
"It appears that there may be a cable break after all," he said.
Digicel, which is a minority shareholder in the majority Tonga government-owned cable, said in that statement that "all communication to the outside world in Tonga is affected due to damage on the Tonga Cable Limited submarine cable."
The company said it was working urgently with local authorities to "resolve the damage," adding that its domestic mobile phone towers were operating across the main island of Tongatapu.
"TCL staff and all the stations are fine (no damage) except the cables, both have a fault," Tonga Cable Limited said, per ZDNet. "The fault lies about 37km from Nuku'alofa for the international one and about 47km from Nuku'alofa for the domestic one."
In 2019 after the Tonga cable suffered a pair of cuts and a 12-day outage, the nation signed a 15-year deal with Kacific for satellite connectivity. However, the NZ Herald notes that ash and dust clouds from the eruption are interfering with satellite communications.
Tonga Cable chairman Samiuela Fonua has said the company has met with SubCom to start preparations for SubCom's cable repair ship Reliance to be dispatched to Tonga, possibly via Samoa. Repairs could take as long as two weeks.