Singaporean data center firm SpaceDC has announced a partnership with Chinese operator Centrin Data to sell space in two of the latter's data centers.
The partnership will see both companies working together to sell Centrin's data centers and services in China. SpaceDC will be offering space in Centrin Data's Tier IV Kunshan and Wuhan data centers.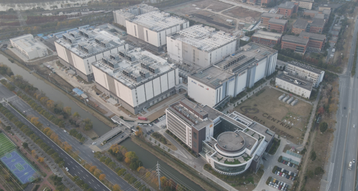 Reportedly covering almost 165,744 sqm (1.8 million sq ft), the Kunshan campus in Jiangsu Province's Huaqiao Economic and Technological Development Zone spans one five-story buildings and four six-story buildings capable of holding up to 32,000 racks. The campus has built its own 220KV substation with 600MW power capacity and 192MW critical IT load.
Spanning around 207,000 sqm (2.2 million sq ft), the Wuhan campus in the city's Lingkonggang Economic and Technological Development Zone will eventually span three five-story buildings and four six-story buildings capable of holding up to 40,000 racks. The first phase totals 70MW, before reaching 225MW at full build out.
Founded in 2005, Beijing-based Centrin offers cloud computing and information system outsourcing services to enterprises and institutions in China. Uptime lists Centrin Data Group as operating a Tier IV facility in Wuhan, and Centrin Data Services as operating a Tier IV facility in Kunshan, though both appear to be the same company. Centrin Data also has data centers in Beijing, Guanzhou, and Yantai that are currently not part of this agreement.
"Our data centers are strategically located and specifically designed with high security and rich network connections with a particular focus for the financial services customers," said Yang Yu, CEO for Centrin Data. "SpaceDC and Centrin Data will have a long and prosperous partnership as our companies share a common vision for our customers globally."
"With China opening the borders to foreign financial institutions, our customers are asking for an experienced data center operator in key cities like Wuhan and Kunshan," added Jeffrey Tay, EVP of Strategic partnerships for SpaceDC. "A reputation for resilient facility with high security protocols for the financial services sector, Centrin Data more than delivers what our customers are looking for."
In 2019 Hong Kong-based real estate private equity firm Gaw Capital Partners formed a joint-venture with Centrin Data to acquire, develop, and operate a portfolio of hyperscale projects in China; the deal was due in part to fund the expansion of the Kunshan facility.
Last month, SpaceDC announced a new 72MW data center campus in the Philippines that it says will be the largest hyperscale facility in the country. The 43,000 sqm (463,00 sq ft) MN1 campus will be made up of 12 four-story buildings, with four data halls each. The company operates two other facilities; JAK1 in Indonesia and NCR1 in India.