Singapore-based SpaceDC today announced the launch of its first data center located at Jakarta Barat, Indonesia. The GIC-backed SpaceDC says the new facility will serve the burgeoning Internet population of the world's fourth most populous country and act as a gateway to the larger Southeast Asia market.
JAK2 is a 1.45MW facility which is Uptime Institute Tier III Design certified and located on the SpaceDC ID01 data center campus. The facility has been assessed by TVRA, and a virtual facility tour hosted by DCD earlier today showed high perimeter fencing with 3.2-meter impact-resistant barrier along its bottom half.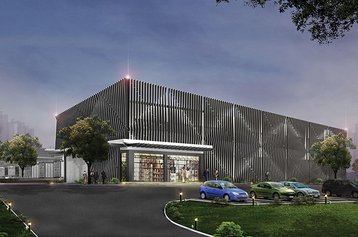 Lower emissions and onsite power
JAK2 includes a two-story administration building and is aimed at colocation and wholesale customers.
Designed with various green features, the data center uses thermal wall technology and high efficiency electric air-cooled chillers, which SpaceDC says allows it to deliver a PUE of 1.3. A selective catalytic reduction (SCR) unit has also been installed to lower carbon emission produced by power generation.
The standout feature of JAK2 would undoubtedly be the presence of its onsite natural gas power generator. While the compound has its own dedicated transformers to draw power from the main grid, larger customers have the option to go with onsite power generation.
The trigeneration onsite power plant is hooked up to Indonesian natural gas company Perusahaan Gas Negara (PGN) and reclaims waste heat – both jacket water and engine exhaust, for greater efficiency. Static UPS backed by N+N diesel backup generators serves as backup during power outages.
"With Indonesia having SEA's largest population, and the region's largest digital economy, it only made sense for us to open our first facility in this market," said Darren Hawkins, the CEO of SpaceDC.
"With the connectivity afforded by this facility, local and global brands will now have access to a world-class data center facility to connect to the SEA region – a region whose Internet economy has been valued at over US$100 billion, and is expected to swell to US$300 billion by 2025."
Construction for the much larger 24MW JAK1 has also started, which SpaceDC says will be launched in 2021.