Vodacom has signed a Virtual Wheeling agreement with utility provider Eskom as part of efforts to improve South Africa's energy crisis.
In a statement, Vodacom confirmed that the agreement will add capacity to the nation's power grid, while also enabling the operator to move closer to its own goal of sourcing 100 percent of its electricity demand from renewable energy sources by 2025.
According to Vodacom, this agreement will help the company to execute the next phase of this solution - securing Independent Power Producers (IPPs) under the same terms and conditions that underpin its agreement with Eskom.
The announcement comes around a year after Vodacom outlined its intentions to start a pilot with Eskom in a bid to source all its electricity from independent suppliers.
"Vodacom's partnership with Eskom is transformational in that our virtual wheeling solution will enable South Africa's private sector to participate in resolving the energy crisis which continues to impact the country's economy," said Vodacom Group CEO Shameel Joosub.
"It also provides a blueprint for other South African corporates to adopt, as we pool our collective resources with the common objective of bringing an end to load shedding. The virtual wheeling solution has the potential to be fast-tracked, depending on the available licensed capacity of IPPs."
South Africa's energy crisis has long been an issue and has worsened this year, with Calib Cassim, Eskom's acting chief executive, warning of a "difficult winter" that could lead to potential outages lasting for as long as 16 hours.
The country has suffered from rolling blackouts, with the nation hit by Stage 6 power cuts in September of last year, forcing Eskom to cut 6,000 megawatts from the national grid after generation units failed at the Kusile and Kriel power stations.
The country saw its worst year for power cuts last year, with 205 days of rolling blackouts. Eskom claims cuts reduced the country's GDP by around five percent.
Vodacom stated that it's spent more than R4 billion ($212 million) on backup power solutions and R300m ($15.9m) in the past financial year alone on operational costs such as diesel for generators, as the energy crisis has worsened.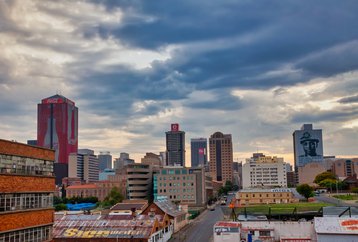 Typically, traditional wheeling involves a one-to-one relationship between an IPP and a buyer using the national grid to convey their energy, though this has certain limitations for companies with complex operating environments.
Vodacom notes that its operating situation is unique due to the complexities associated with having over 15,000 distributed low-voltage sites across the country that are linked to 168 municipalities. The operator points out that because of this complexity, it's been unable to access large-scale renewable energy from IPPs.
However, the virtual wheeling solution addresses these challenges as it enables Vodacom the ability to add more capacity to the grid without impacting Eskom's balance sheet while helping to reduce its greenhouse gas emissions.
"Converting our existing fossil-fuel-based electricity supplies directly with on-site renewables is limited by technical constraints that are difficult to scale. We explored a traditional wheeling option, but this had numerous limitations, which we believed could be overcome by reimagining the problem and using technology to solve the issue," added Joosub.
"Vodacom had four objectives when we approached Eskom with this solution: one to remove complexity, two to use technology to solve legacy limitations, three to access renewable energy with a sound business case, and lastly, encouraging private participation to help solve the energy crisis."
New name for Vodacom's TowerCo
In other news from the company, Vodacom has reportedly renamed its tower business from TowerCo to Mast.
As reported by My Broadband, the operator will formally rebrand as part of its official launch in the near future after confirming the plans to the publication.
"The separation of our South African tower portfolio into a standalone tower company (TowerCo) business is expected to support this strategic priority by enhancing asset returns, lower costs to communicate, and further our ambitions to connect for a better future," stated Vodacom last year.
"Vodacom has established a separate legal entity for its South African tower assets that is wholly owned by Vodacom Group," a spokesperson told MyBroadband. "Initially known as 'TowerCo,' the company recently changed its name to Mast Services (Pty) Ltd and has Michael Magambo at its helm."
As of March 2021, Vodacom had 14,635 mobile sites across South Africa.
More in The Energy & Sustainability Channel