Verizon Business has secured a deal to build a second private 5G network at the Port of Virginia.
The US operator this week announced an agreement with the Norfolk International Terminal (NIT), following the successful deployment of a private 5G network at the neighboring Virginia International Terminal (VIT).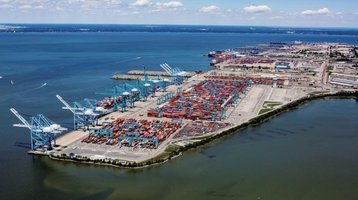 Both NIT and VIT are terminals within the Port of Virginia. Swedish vendor Ericsson is the sole vendor for the buildout of the private network.
Verizon says its private 5G network will cover 270 acres of the NIT campus with dedicated Ultra Wideband spectrum, which replaces existing outdoor WiFi at the site.
The network will enable instant voice, text, and data communication within the campus through Verizon Push to Talk Plus (PTT). PTT is a mobile app used for industrial and commercial worksite collaboration across phones, smartphones, and tablets, propped up by Verizon's private network.
"The expansion of Verizon's private 5G presence at the Port of Virginia shows that companies can modernize and improve their operations by starting small with new technology, proving out the use cases and applications that are right for their business, and then scaling up to do even more," said Kyle Malady, CEO of Verizon Business.
"The Port of Virginia, through the private 5G journeys at VIT and NIT, epitomizes how to adopt cutting edge technology to transform a business efficiently and productively."
In September of last year, Verizon won a contract worth $11.5 million to deploy a private network at a Hawaiian military base.
It was selected by the US Department of Defense to install and maintain a 5G private network inside an aircraft maintenance hangar at the joint military base Pearl Harbor-Hickam (JBPHH).