Amazon continues to invest in renewable energy projects and has announced its first brownfield redevelopment project.
In an update on its renewable efforts, Amazon said it has invested in 78 new solar and wind energy projects so far this year.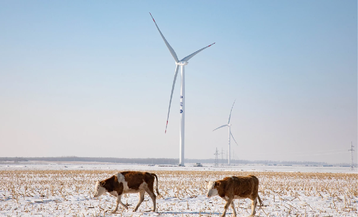 These include the company's first brownfield project - which will repurpose a Maryland coal mine site into a solar farm - as well as its first renewable energy project in South Korea, along with 10 new renewable energy projects across Texas.
In North America, the company has also invested in new projects in Arkansas, Georgia, Maryland, Michigan, Mississippi, Missouri, Ohio, Oklahoma, and Virginia so far this year, as well as Canada.
The Texas projects include Amazon Solar Farm Texas–Outpost, a 500MW solar farm in Webb County. The Amazon Wind Farm Texas–Great Prairie recently began operations in Hansford County; the project has more than 350 wind turbines and more than 1,000MW of total capacity.
The company also added 13 projects in APAC over 2023, including eight utility-scale wind and solar projects and its first in South Korea.
In China, Amazon has announced two new wind farms; Amazon Wind Farm China–Daqing, which began operating in March, and Amazon Wind Farm China–Bobai.
The company also invested in a wind project in Brazil in the Seridó Wind Complex in in Rio Grande do Norte.
In Maryland, the Amazon Solar Farm Maryland–CPV Backbone is being built on the site of the recently closed Arch Coal Mine in Garrett County, Maryland. It is expected to be the largest solar farm in the state once it launches.
Amazon noted that the US Environmental Protection Agency (EPA) estimates that there are more than 450,000 brownfields across the county, which it describes as "an emerging opportunity" for solar energy projects.
Amazon has now invested in a total of 479 wind and solar projects globally, and once operational, they are expected to generate more than 71,900GWh of energy annually.
Adam Selipsky, CEO of AWS, said: "More than 90 percent of our operations were powered by renewables last year, but we're not done. We're focused on continuing to find innovative ways to bring new projects online, address grid constraints, and work with policymakers to mitigate the impacts of climate change, all of which is helping Amazon move closer to achieving 100 percent renewable energy by 2025."
Amazon is the largest corporate purchaser of renewable energy globally. The company aims to power all its operations, including AWS data centers, fulfillment centers, and physical stores, with 100 percent renewable energy by 2025.
The company has been criticized for a lack of transparency, and the fact its power purchase agreements (PPAs) don't match its hourly energy usage, which reduces their environmental benefit.
Critics have questioned the value of PPAs – especially those that aren't matched on an hourly basis. Some operators, including Google, Microsoft, and Iron Mountain are pursuing a 24/7 matching strategy, but AWS is yet to announce such plans.