Vodacom South Africa has outlined its intentions to start a pilot with Eskom in a bid to source all its electricity from independent suppliers.
The operator is looking to source its energy from independent renewable power generators, as the country grapples with an energy crisis.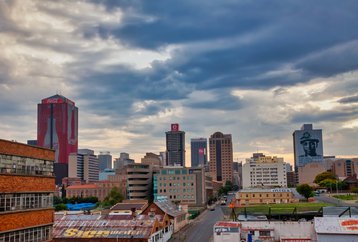 If the pilot is successful it will provide Vodacom with renewable energy, and a blueprint for other South African operators to follow. It will also enable operators to add more capacity to networks.
Vodacom is aiming to source 100 percent of its electricity from renewable sources across all our operations by 2025, said Vodacom Group CEO Shameel Joosub.
"This is a monumental move forward to assist Eskom and South Africa to solve the energy crisis, which proves our greatest threat to an economic recovery," said Joosub.
"It is our belief that the energy crisis in South Africa can be solved with the assistance of private sector participation and enablement — this solution does just that, and can be fast-tracked and scaled to address the shortfall of generation capacity within two years."
Vodacom has called its situation unique, noting the complexities of having over 15,000 distributed low-voltage sites across the country with linkage to 168 municipalities. This has meant that until now Vodacom hasn't been able to access power purchase agreements or transmit energy over Eskom's network.
State-owned utility supplier Eskom will still support Vodacom with transmission infrastructure, and services if the pilot is successful.
"They want to start their own green power generation for their towers, but how do they get power to the towers? This is where we come in," Eskom CEO André De Ruyter told the Sunday Times.
Telco Networks vs Regular outages in SA
South Africa has been hit by regular outages this year, the most recent of which came earlier this month after Eskom had to implement Stage 6 power cuts. The company cut 6,000 megawatts from the national grid after generation units failed at the Kusile and Kriel power stations.
It was the second time Eskom resorted to Stage 6 load shedding, with this meaning South Africans face at least six hours a day without power.
Eskom gets its power from aging coal-fired power plants, which are prone to breakdowns. De Ruyter dismissed fears of a total blackout as "not an imminent risk" earlier this month.
The country has been experiencing its worst year on record for outages, with these a major factor in the economy's 0.7 percent contraction in the second quarter.
Eskom has had to resort to load shedding for a total of 100 days this year. De Ruyter said the company is aiming to procure 1,000MW from independent power producers.
A Stage 8 shed (8,000MW) might be needed soon, warned experts, with such grid cuts potentially impacting local telco networks and data centers.
Load shedding earlier this year caused a cooling system failure at an MTN data center. At the time the telco said it was undergoing an "aggressive rollout" of batteries, generators, and alternate power supplies, and was reaching out to small businesses to supply generators for its network operations.