Skybox and Prologis are expanding their partnering and developing another data center campus outside Austin, Texas.
Dallas-based Skybox Datacenters and its partner, San Francisco-based Prologis Inc., have purchased more than 220 acres from the City of Hutto in northeast Austin, where they plan to build a data center campus. Details of the planned development – including specifications, energy requirements, or timelines – were not shared.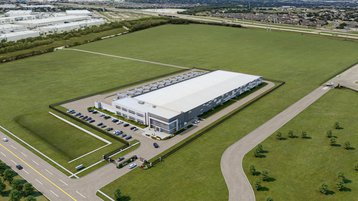 The City of Hutto said the land is part of the Hutto Megasite, a tract of land for strategic development on the south side of US Hwy 79 in far eastern Hutto.
"The City of Hutto is very attractive for its strong workforce, prime location and pro-growth mindset," said Prologis VP and investment officer JC Witt. "The site on Highway 79 is a rare find, and we're thrilled to have the opportunity to work with the City and Skybox Datacenters to develop it. We are excited to see our relationship with Skybox Datacenters flourish in Texas and continue to grow our Prologis presence in the greater Austin area!"
Skybox CEO Rob Morris added: "Developing this world-class project—in collaboration with the City of Hutto to source an excellent workforce and resilient regional facilities—will empower digital infrastructure growth at an unprecedented rate and scale."
BizJournal reports that an entity called Hutto Data Center Campus LLC on Aug. 9 purchased three tracts totaling 159 acres, according to county records. That entity is tied to a Denver address that is associated with Prologis. Prologis Logistics Services Inc. itself acquired an adjacent 62 acres on the same day.
Skybox first partnered with Prologis in early 2021, when the two companies filed to convert an empty warehouse owned by the real estate firm into a data center in Elk Grove, Illinois. In December, Prologis filed for permission to develop a new 500,000 sq ft (46,500 sqm) data center on a 19.5-acre industrial site that it currently owns in Sterling, Virginia. Additional filings suggest Prologis is again partnering with Skybox Datacenters for the project, though the companies haven't confirmed this yet.
In March 2022, the two companies then announced plans for a greenfield development in the Austin suburb of Pflugerville. Skybox Austin I will be a 30MW, 141,240 square-foot (13,100 sqm) facility; the companies broke ground on the site in June of this year. The campus is master-planned to support up to two 141,000 sq ft facilities.
On its site, Skybox says it has developments in Chicago, Dallas, Austin, Houston, Northern Virginia, and Santa Clara.
Prologis is one of a number of logistics & warehouse industrial real estate firms looking to move into or expand their existing presence in the data center space. The likes of Segro, GLP, ESR, P3, and others are also looking to develop facilities in the US, Europe, and Asia Pacific.
More in Construction & Site Selection