Prologis is looking to convert an industrial site in Sterling, Northern Virginia, into a data center, possibly in partnership with Skybox Datacenters.
First reported by DgtlInfra, Prologis has filed for permission with Loudoun County's Planning Commission to develop a new 500,000 sq ft (46,500 sqm) data center on a 19.5-acre industrial site that it currently owns in Sterling, Virginia.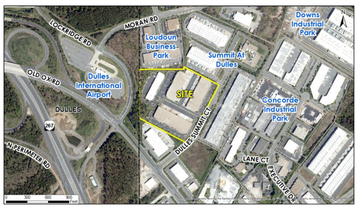 The project is known as Prologis NOVA 1 and the company is working through a subsidiary known as DCT Dulles Phase I LLC. Additional filings suggest Prologis is again partnering with Skybox Datacenters.
The current property at 22675 Dulles Summit Court spans four single-story buildings totaling 287,000 sq ft (26,600 sqm) zoned for industrial use; they were built around 2007. The company is requesting permission to rezone the property and expand the allowed floor use for data centers. The documents also reference plans to construct ~500,000 sq ft (46,500 sqm) of data center buildings on the site.
DgtlInfra notes that as part of the Pre-Application Conference for the Prologis NOVA 1 project, Skybox Datacenters took part in the applicant discussion, with the company's CEO, Rob Morris, being named in attendance.
On its website, Skybox says its Skybox NOVA facility in Northern Virginia sits on a 10-acre plot and offer 30MW across 210,500 sq ft (19,500 sqm) once it comes online in November 2022.
Earlier this year Skybox and Prologis partnered to convert a vacant warehouse in Illinois owned by the real estate firm into a data center. The new Elk Grove data center will be a 30MW, 189,000 sq ft (17,600 sq m) facility; it's Skybox's first project outside of Texas.
Prologis reportedly took over the site through its $8.5bn acquisition of DCT Industrial Trust in August 2018. Prologis owns two buildings to the north of the plot leased to AWS, while First Industrial Realty Trust owns buildings to the east also leased to AWS.
DCD has reached out to Skybox for more info.
More in Construction & Site Selection