South Korean memory chip maker SK hynix recorded its biggest quarterly loss on record amid a wider chip slump.
The company said that it is cutting output and plans to halve 2023 capital spending.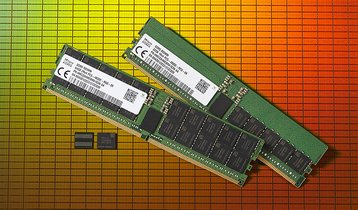 The semiconductor industry overall has struggled with the global economic slowdown and a hangover from the pandemic chip binge.
But NAND and DRAM memory chips have been the worst hit, with a severe imbalance between supply and demand causing prices to halve. Customers have yet to use up stockpiles, while memory makers are stuck with as much as four months' worth of supply.
Hynix is suffering from this disparity more than most, after acquiring Intel's flash business. This has given it even more stock to try to sell, just as demand has cratered.
The Intel division, rebranded as Solidigm, also operates factories in China, which are impacted by new US export sanctions.
SK hynix posted a net loss of 3.524 trillion won ($2.86bn) and an operating loss of 1.7 trillion won ($1.38bn).
The company expects demand to begin to pick up in the second half of the year, as the industry slashes production.
"Intel's launch of new server CPU adopting DDR5 and apparent positive signs of demand for new AI-based server memory chips bode well for a quick business turnaround," SK Hynix chief financial officer Kim Woohyun said. "With the world's best technologies for DDR5 for data centers and 176-layer NAND flash-based enterprise SSD, we expect to see a quick turnaround when the market bottoms out."
With the rapid collapse in demand, rival Micron said that it would lay off around 10 percent of its staff and cut back on new investments. Market leader Samsung said that it would cut production, but planned to keep investing through the downturn.
Outside of memory chips, contract semiconductor manufacturer TSMC has announced cuts, while Intel has taken drastic measures as its core business comes under pressure.