A blockchain-based asset exchange licensed by the Singapore authorities is teaming with an AI firm to offer carbon measurement and offsetting for tropical data centers.
MetaVerse Green Exchange (MVGX) a crypto exchange regulated by the Monetary Authority of Singapore (MAS) is working with industrial AI firm Red Dot Analytics to measure and offset the carbon footprint of data centers in tropical environments. The scheme is being billed as a possible answer to the digital crisis in Singapore, which led to a three-year moratorium on new data center projects.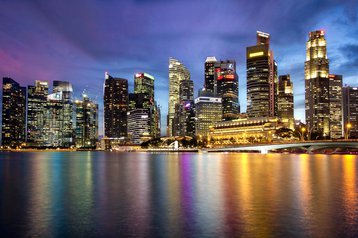 Data centers are reported to consume seven percent of Singapore's electricity - a figure with a huge environmental impact since that electricity is largely generated from natural gas.
But are offsets good enough?
Singapore has ambitions to keep its place as a pre-eminent digital hub in the APAC region, but with a serious shortage of land and green electricity, the government imposed a moratorium on new projects in 2019. This is now being lifted, but with new projects rationed to a reported 60MW per year.
Red Dot (RDA), a spin-off from the Nanyang Technological University (NTU), and MGVX plan to use more digital capacity to verifiably measure the carbon footprint of data centers in Singapore, so it can be offset - although offsetting has been criticized as unhelpful to the goal of decarbonization.
The joint plan uses RDA's digital twin technology DCWiz, which digitizes data center operations, creating a virtual replica of the real-world system to model the effect of any changes before they are implemented, using AI to predict the response.
"For too long now, rapid technological innovation and changing consumer behaviors have come at the expense of the environment," said Red Dot Analytics Chief Scientist Dr. Wen Yonggang, who is also a professor of computer science and engineering at NTU. "While there are growing trends in the use of renewables or the race to produce more energy-efficient hardware, the truth is, we need to find ways to use energy in a more intelligent way and that begins with accurate measurement. RDA can solve one part of the puzzle and in working with MVGX, we hope to strengthen our value proposition by taking our clients one step further in their sustainability journeys."
The proposal also uses MVGX's carbon management system, which is based on its own "non-fungible digital twin technology" (NFDT), that will handle reporting, calculation, and validation process.
The pair says this will enable them to credibly certify carbon neutrality based on the British Standards Institution (BSI)'s ISO 14064-1:2018 Carbon Footprint Verification and PAS 2060 Carbon Neutrality Verification.
They hope to use this to become the foundation of an "international network of carbon trading markets".
MGVX will bring RDA on as a preferred data center provider and refer its global client base to the Analytics firm. In turn, RDA will designate MVGX as its preferred platform for the financing of green data centers while encouraging its clients to use MVGX's solutions to offset their carbon footprint in a verifiable manner. 
"As businesses work toward meeting their net-zero goals, they need to consider the entire scope of what they do and that begins, first and foremost, with the infrastructure that powers their operations," said Bo Bai, chairman and co-founder of MVGX. "Today, data centers, while overlooked, are a core component of any online organization and in working with RDA, we want to show that there is in fact a way to ensure that energy expenditure at every level, can in fact be accounted for and mitigated accurately."
The scheme is based on an offset scheme within MVGX's carbon management system, which it calls a Carbon Neutrality Token (CNTTM). The two bodies say the scheme's proprietary protocols and blockchain allow it to create an immutable and continuously updated record of carbon performance.
However, blockchain is a notoriously inefficient and unscalable protocol, and carbon credits themselves have been labeled "greenwash" by activists including Greenpeace, who argue that anything that enables companies to continue to use polluting energy sources is wrong.