Singapore's three-year moratorium on new data centers has officially ended, with the authorities announcing a program for applications to build new facilities.
The country's Infocomm Media Development Authority (IMDA) and Economic Development Board (EDB) have launched a pilot scheme for new applications, with the aim of allowing the "calibrated and sustainable growth" of data centers in Singapore.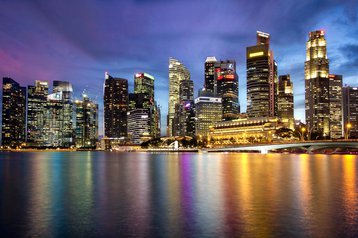 Over the last decade and more, Singapore has become a key hub for digital infrastructure in the Asia Pacific region. However, it is a small country just 278 square miles in size, and already has some 60 data centers with a footprint of more than 357MW. The sector uses more than seven percent of Singapore's electricity, and this means it is contributing to global warming, since the country's electricity mostly comes from fossil fuels.
Three years' break
Given all these issues, it was no surprise in 2019, when IMDA announced a temporary pause in data center development. No new data centers were allowed, but some existing projects and expansions were completed.
"Data Centres (DCs) are important enablers of the digital economy," says today's announcement from IMDA and EDB. "As the usage of digital applications and services increases, the demand for data storage and processing for businesses and consumers has also risen globally. However, DCs are also intensive users of resources like land, water, and energy, contributing to our carbon footprint."
During the moratorium, there were increasing calls to allow more data center building, and EDB and IMDA consulted with the sector.
Singapore's Minister for Trade and Industry announced in January that the moratorium would shortly be lifted, but with specific limitations to make growth sustainable.
In the months since then, there have been suggestions that these limitations will include a cap on the total number of MW that can be built per year. In March, the Communications Minister announced there would be a pilot scheme in which new applications would be invited, so the government could assess the results.
"IMDA and the Economic Development Board (EDB) will pilot a Call for Application to facilitate the calibrated growth of data centers that possess the best-in-class techniques, technologies, and practices for energy efficiency and decarbonization," said Dr. Janil Puthucheary, Senior Minister of State, Ministry of Communications and Information, in March. "Singapore is committed to fulfilling our environmental obligations under the 2015 Paris Agreement, and greener data centers will allow us to do so, while at the same time supporting the growing needs of our Digital Economy. The Call for Application will be launched by the second quarter of 2022."
Today, that pilot scheme has been publicly launched with a brief document (PDF) giving details of the parameters: "Going forward, Singapore will need to manage the growth of DC capacity in a sustainable manner consistent with our climate change commitments.," says today's IMDA/EDB announcement.
Any new proposals must use state "state of the art technologies and best practices for sustainability", particularly in energy efficiency and decarbonization. They should also strengthen Singapore's international connectivity, cementing its role as a regional hub. They should also fit with Singapore's broader economic objectives, the announcement says.
Treating this as a pilot, the Singapore authorities want to hear "innovative proposals", and specify that the proposals must all have a PUE less than 1.3, and have Platinum certification under Singapore's BCA-IMDA Green Mark for New Data Centre ("GM-NDC") criteria.
They must also address decarbonization, by investing in "innovative energy pathways" such as hydrogen or solar panels to offset the data center's footprint.