Data center firm ServerDomes has announced a partnership with immersion cooling company LiquidCool.
Under the partnership announced this week, ServerDomes has committed to dedicating a "significant amount" of rack space in its upcoming facilities for liquid cooling servers.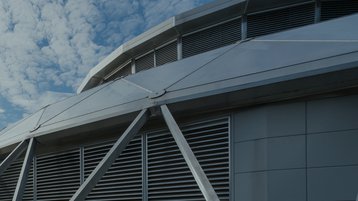 LiquidCool Solutions said it will offer ServerDomes design and engineering support and will participate in joint marketing efforts as the two companies cross-sell each other's solutions.
Portland-based ServerDomes launched its distinctive geodesic design in 2017. The dome's 'biomimicry' design removes the need for air conditioning and uses very little water.
"We reviewed several technologies and the highly patented technology offered by LiquidCool Solutions was the overwhelming choice," said ServerDomes CEO David Jackson. "This gives our customers more flexibility in data center design. By incorporating even more high-performance computing in a world where AI and other low latency applications are coming of age, we are improving our already super-efficient and sustainable data centers."
The companies said they are currently collaborating on projects ServerDomes is developing in North America. Details on those projects weren't shared.
"Design flexibility is important to us along with partners that are concerned about the environment and community. We believe ServerDomes has the best Edge data center design to allow for seamless integration of our products working side by side with traditional air-cooled racks," said LiquidCool Solutions CEO Ken Krei. "We're extremely impressed with the projects ServerDomes is developing and the amazing team of professionals leading their organization."
Earlier this year ServerDomes signed a deal with Fermaca Infraestructura, an infrastructure developer in Mexico, to deploy Edge data centers along a new US-Mexico fiber route using ServerDomes's design, though the company has not said how many data centers will be built, or where.
ServerDomes (formerly Server Dome) was spun out of the Oregon Health & Science University (OHSU), which built a facility in Hillsboro, Oregon in 2014, that was covered by a geodesic dome made of aluminum and used natural convection to cool the servers without air conditioning units, exhaust fans, dehumidifiers, chillers, and CRACs. ServerDomes claims this saves 27 percent of the power, and 92 percent of the water used in a comparable facility.
The original design is an 8,000-square-foot (743 sqm), 4MW data center that spends just 0.2MW on non-IT equipment. The Tier III-standard module is capable of hosting up to 168 52u racks.
The dome has air intakes toward the bottom of the building and air vents toward the top. An airfoil helps improve exhaust – much like the 'chicken coop' design used by Yahoo, among others – and a 'vegetative bio-swale' around the facility provides additional cooling and air supply.
Each rack can support up to 25kW of hardware, and the company has said rack densities can be increased further with liquid cooling to around 40kW in a 52u configuration. The existing facility runs with an annualized PUE of 1.13 and an average WUE of 0.1 L/Kwh and is designed to operate as a "lights out" facility.
Founded in 2006, LiquidCool offers a number of liquid-cooled servers, including an immersion-cooled 2U sealed and liquid-filled server and a 24U rack microdata center featuring 3-6 servers.
Last year UK Edge firm Dataqube invested in LiquidCool and gained distribution rights. However, Dataqube recently went into liquidation, with new firm Iconic Data Centres seemingly taking its place.