Innovative data center design created at the Oregon Health & Science University (OHSU) will be available as a commercial product, with the technology spun off through a start-up called Server Dome.
In 2014, OHSU built a facility in Hillsboro that was covered by a geodesic dome made of aluminum. Natural convection helped the university eliminate cooling equipment like air conditioning units, exhaust fans, dehumidifiers, chillers and CRACs, helping make considerable savings on electricity costs.
Beyond the Thunderdome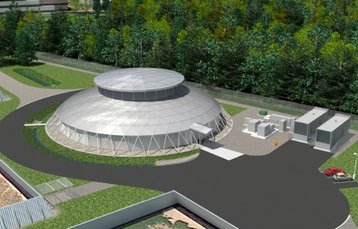 OHSU built its Data Dome on West Campus in Beaverton to share the workload of its primary data center in downtown Portland. It was designed by Perry Gliessman, director of technology services for the OHSU Information Technology Group.
The original design is an 8,000 square foot, 4MW data center that spends just 0.2MW on non-IT equipment. Each rack can support up to 25kW of hardware, making it especially suitable for high-density computing often used for research purposes.
There are large air intakes toward the bottom of the building and large air vents toward the top. The dome airfoil helps improve exhaust – much like the 'chicken coop' design used by Yahoo, among others – and a 'vegetative bio-swale' around the facility provides additional cooling and air supply. Portland Business Journal previously reported that the project cost $22 million.
According to Server Dome, this unusual design helps reduce the required mechanical systems to just one – the Air Handling Units. This means at least 30 percent reduced construction costs and 80 percent reduced maintenance costs, when compared to a traditional brick-and-mortar building.
The basic design of the data center can be downgraded to Tier 2 or Tier 1 to further lower construction and maintenance costs. Server Dome describes its potential facilities as "virtually maintenance-free" and adds that they should last for 15 to 20 years.