Schneider Electric has launched a speedier prefabricated data center service in Europe, alongside announcing a "modernization" of its infrastructure management product, Ecostruxure IT.
Schneider will deliver prefabricated containerized data centers from 27kW to 80kW made in its Barcelona factory, with a simplified ordering process under the "Easy Modular Data Center All-in-One" brand. The containers can now be ordered from a simple catalog list and delivered in as little as 12 weeks.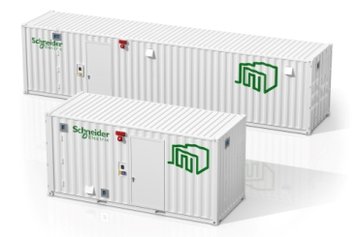 The new DCIM approach is labeled "DCIM 3.0".
Take it Easy
The Easy prefabricated range of containers are ISO standard sized, designed for Edge locations or smaller users, and can be delivered within 12 weeks. They were launched in Asia, Latin America, and Africa at the end of 2021, supplied from a factory in Bangalore, and are now being offered in Europe from Schneider's Barcelona factory. Prior to the European launch, the Barcelona factory has in fact shipped some units to Latin America.
There's no word yet of a North American launch.
The boxes are available on a configure-to-order (CTO) basis, instead of engineer-to-order (ETO), essentially moving to standardized configurations which can be ordered from a catalog, according to Elliott Turek, offer & innovation leader, prefabricated modular solutions at Schneider.
"Customers want a prefabricated solution with less integration up front," Turek told DCD. While there are plenty of ways to build a prefabricated module, there are limits caused factors such as shipping units on trucks. Simplifying the options means "we can get to the point where customers can look at a price and configure and order."
The units are based around power and cooling units, some of which also have the Easy brand. Reducing the quotation and booking time is significant, and having a local factory helps as shipping from India can add several weeks to the delivery. The actual shipping of a completed unit from Barcelona should take within two weeks to most parts of Europe, including the Nordics, said Turek.
There are four base designs - essentially ISO standard 20ft and 40ft containers which hold 4 or 12 racks, with 27 or 80kW of capacity, alongside longer variants with a larger footprint which allow extra racks (6 or 12) and power up to 38kW or 94kW.
Some elements within the design can be tweaked, including allowing for different refrigerants, which can even be added after delivery by the customer, as well as fixings which can reduce the amount of concrete required.
"Some people want the ISO footprint as it's smaller and fits in the back of a truck," said Turek. "The 25ft and 45ft non-ISO containers are a bit wider and longer." This makes them slightly harder to ship, but allows flexibility and potentially the inclusion of a small office space in the module.
The official launch of the range is in July.