Schneider Electric has announced its data center infrastructure management (DCIM) product, Ecostruxure IT, is getting an overhaul to fit with the modern world of hybrid IT and Edge.
The new approach, labeled "DCIM 3.0," was launched at an online event, on June 8, and will enable CIOs to manage infrastructure distributed across public cloud services, colocation, Edge resources and their own on-premises resources, according to Kevin Brown, SVP, EcoStruxure Solutions, Secure Power Division.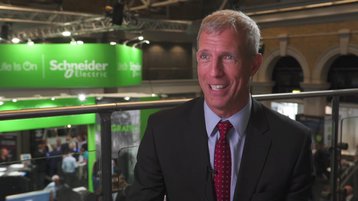 A new Easy Modular Data Center offering was also launched at the event.
DCIM to rescue the CIO
"The role of the CIO is more complex than ever, as more devices are coming under the corporate network," Brown said in an interview with DCD. "How do we enable everything the CIO is doing, as well as the colos who use our tools to provide information to the CIOs, while managing the space power and capacity, just like they've always done. Data centers are everywhere, and we need to start treating it that way."
In many organizations, CIOs will be responsible for an increasing proportion of the energy consumption of their company, partly because the rate of digitization has increased rapidly following the pandemic.
The first concrete sign of the new direction, Brown said, is a set of 'tenant portal' utilities that help colocation providers share management control and monitoring with their customers and partners.
"Colocation customers are saying 'the SLA is not going to be enough. Show me your tools, how are you managing space, power and capacity, and how do I get the information I want out of this?'"
One recent example is Amsterdam, where the city authorities demanded that servers in data centers should use power conservation mode so idle servers are switched off. Colocation providers in fact don't have control over their customers' servers, so the solution will involve making server settings and power usage more clearly visible to customers, so they can be regulated.
Schneider's recommitment to DCIM comes after a period of consolidation and retrenchment in the field. Schneider's rival Vertiv discontinued its flagship Trellis DCIM platform in 2021, and independent DCIM vendor Nlyte was acquired by cooling specialist Carrier.
Brown declined to comment on moves by rival companies, but said that Schneider is "the only global major player left," and is "going in the opposite direction" to any rivals leaving the market.
He argued that DCIM is a vital tool to bring the environmental impact of data centers under control: "Sustainability is a key part of our story, and we can't get there without Ecostruxure IT."
This kind of expansion will bring DCIM tools into contact with other vendors' systems, which could create integration issues, he acknowledged.
"We do not live in a silo anymore. DCIM tools have been too proprietary," he said, promising to make it easier to share infrastructure information. However, the approach to opening up won't need international standards, he told DCD.: "We are going to be open and provide data to customers. Standardization is not top of mind. We want a set of APIs that people can plug into."