Indonesian investment firm Saratoga Investama has invested in local data center firm AtriaDC, which is set to expand its site to up to 30MW.
Launched last year, AtriaDC currently operates one purpose-built data center in Jakarta. Structure Research suggests the company's data center is a former SpaceDC facility; SpaceDC no longer lists JAK2 on its site and hasn't since around December 2021. Though it doesn't share details, the data center on AtriaDC's site visually matches JAK2.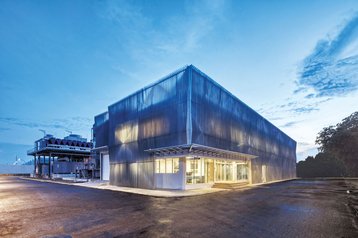 According to Saratoga, AtriaDC has acquired an operating data center asset in the city located in the West Jakarta area with a landbank that is capable of facilitating a total capacity of approximately 30MW. Saratoga said the landbank that AtriaDC has secured will allow it to develop the 'largest purpose-built Edge data center' in Indonesia.
"This acquisition is the first step to strengthen AtriaDC's position as an Edge data center provider by considering both the large end-user population in the surrounding areas and the network density level, which is the main criterion for the edge data center business. We believe this strategy will support AtriaDC's long-term target to become the best leading data center company for business players and the Indonesian digital community," said AtriaDC President Director Angelo Syailendra.
PT Saratoga Investama Sedaya Tbk. (SRTG) revealed it had invested in AtriaDC in a July investment update. Terms of the investment were not shared, but the company told local press it intends to invest around $100 million in data centers over the next few years.
"Saratoga's participation in developing AtriaDC is a reflection of the company's commitment to taking an active role in developing strategic business sectors with strong long-term growth potential and having a major impact on Indonesia's economic growth. With its experience and resources, Saratoga will be actively involved in supporting AtriaDC to become a company that develops environmentally friendly, purpose-built Edge data centers and help it become a digitalization solution in Indonesia," added Saratoga President Director Michael William P. Soeryadjaya.
GIC-backed SpaceDC launched JAK2 in 2020; the data center is a 1.45MW facility that is Uptime Institute Tier III Design certified and located on the SpaceDC ID01 data center campus. It's unclear when AtriaDC acquired JAK2, or the terms of the deal.
At least three former SpaceDC staff are now employees of AtriaDC, according to LinkedIn profiles, with most having moved around December 2021.