Rack and enclosure maker Rittal has signed a deal to include a range of chillers and cooling systems from Stulz.
The joint deal will combine Stulz's liquid-based chillers, free-cooling products, and other chillers with Rittal's IT enclosures and power supplies, along with DCIM software and monitoring. The two will produce tailored end-to-end systems, including global lifetime support DCIM, monitoring and other services.
Modular collaboration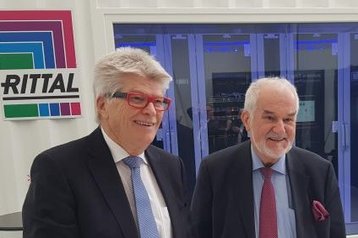 One-stop data center kit is becoming more popular. Hyperscalers and other customers need to build and fit out facilities very quickly, so the industry is moving towards modular approaches, where cooling and power distribution is combined with racks (and IT) before installation.
The two German companies make natural partners, both dating back around 80 years, with specialisms in the IT sector. Rittal is part of the Friedhelm Loh Group, and Stulz started out in household appliances but quickly moved into air cooling for computer rooms in the 1970s. Both companies are led by family members Friedhelm Loh and Jurgen Stulz.
"Rittal and Stulz are both family-run companies, with a commitment to innovation and customer centricity," said Prof. Friedhelm Loh, owner and CEO of Friedhelm Loh Group. "Together, we can offer our customers an even larger portfolio of flexible, end-to-end data center solutions."
Rittal does have its own cooling units, which are included in the partnership, and it has previously signed deals with other cooling companies for specialist niches, such as its deal with ZutaCore, for two-phase liquid cooling used in high performance computing.
Stulz, meanwhile, has ventured into cabinets, producing its own Micro DC Edge computing module, using liquid cooling from CoolIT.
The partnership should give Rittal customers a wider set of mainstream options to choose from, including free cooling and adiabatic technology.
The pair plan to sell individual racks, containers, centralized data centers or Edge facilities, all the way up to cloud and hyperscale data centers. Data center builders will pick and choose from Rittal RiMatrix Next Generation (NG) racks and cabinets, and power supply systems, with Stulz cooling systems, according to the release.
"In cooperation with Rittal, we will ensure rapid, reliable IT system implementation backed by an agile, global service organization with a presence in more than 120 countries," emphasizes Jürgen Stulz, managing director Stulz GmbH.