Cooling specialist Stulz is offering a micro data center which includes direct-to-the-chip liquid cooling technology from Canada's CoolIT Systems. The system will be launched at the ISC High Performance event in Frankfurt next week (19-21 June).
The Stulz Micro DC has a 48U rack, cooled by CoolIT's direct contact liquid cooling system (Rack DCLC), which captures 60 to 80 percent of the heat produced in the racks, leaving 20 to 40 percent to be removed by a Stulz precision air-cooling unit in the same enclosure. The unit can be installed in normal office space, and additional equipment is available to reuse the captured heat.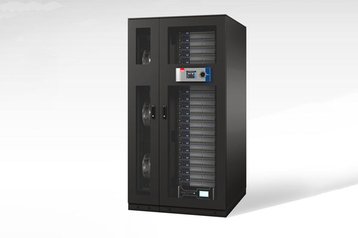 How cool do you want it?
There are three versions of the Micro DC, which can be configured according to what load is in the rack. Users can have the rack and liquid cooling system on its own, or have Stulz ICS cooling systems installed either in the rack or side-mounted. 
Despite the high levels of cooling provided, the Stulz release says this module is "not just for high performance data centers". The CoolIT system interfaces to the electronics with a cold-plate and optional interposers, heat pies and heat spreaders.
The DCLC unit in the Micro DC can work with mainstream servers from HP, Lenovo, Dell, Huawei, NEC, Intel, SuperMicro and others, as well as GPU and ARM based devices. It provides up to 80kW of cooling per rack, consuming only 625W and needing a supply of warm water. It occupies 4U, leaving 44U of rack space. 
The liquid cooling system supports up to 120 servers in the rack, which can be hot-swapped and serviced despite being connected to direct-contact liquid cooling, because the connection is via a cold plate.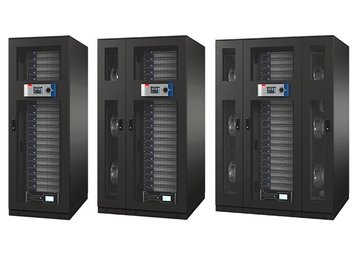 The input water should be at at 30ºC, and the output water is hot enough to be useful in building heating and hot water systems. 
The conventional cooling systems from Stulz include side-mounted 48U heigh ICS modules which provide up to 27kW of cooling, using air, chilled water, or water and glycol. They have independent electronically controlled fans, and interface to management sytems.
The system can also have a 3kW cooling unit included in the rack space, taking up another 6U of rack space.
Flood of liquid systems
Micro data centers are emerging as a possible solution to edge computing needs, and to requirements for localized high-performance computing (HPC). Liquid cooling has been proposed as a cooling solution for these systems, by a number of vendors who point out that the advantages of liquid cooling are more obvious outside of large data centers that already have raised floors and air-cooling provided.
Micro data centers which only need a supply of warm water can be easier to install than air-cooled units, and can be made to operate quietly enough to be placed in normal offices, or be made resistant to dusty industrial environments, according to Iceotope, which recently launched a very small Edgestation unit. 
In the US, Clustered Systems and Aquila are offering liquid cooling in standard Open Compute Project Racks, whild in Denmark, Asetek has rack-level liquid cooling products, Asperitas of the Netherlands is offering a more radical modular edge computing system which uses total immersion/  
"The Micro DC is a compact data center that can be easily deployed in any environment while managing an incredible amount of power and performance," said Joerg Desler, president of Stulz USA. 
…and rear door cooling
Meanwhile, Stulz has also launched CyberRack, a chilled water rear-door cooling unit, with a capacityof 19kW to 32kW, designed to boost cooling in conventional data centers.
The active heat exchanger door replaces the back panel of 42U or 48U server cabinets, including high-density systems inside the data centre. It doesn't affect the space inside the rack, and adds only 300mm to the rack depth. The unit has up to five electronically controlled fans and adapts its cooling capacity automatically to the server heat load, either directly through continuous analysis of measured temperatures, or indirectly via differential pressure control.