Stulz has launched a fan-wall cooling system for data centers with a high IT load.
The CyberWall system places a set of precision air conditioning units in a wall, that will cool aisles of IT equipment without a raised floor.
Only fans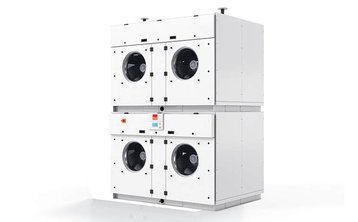 Fan walls have been delivered by various providers, and are particularly aimed at hyperscale facilities. They move high volumes of air at a low speed, reducing energy wastage and inefficiency. Facebook helped develop the Statepoint cooling system from Nortek, and has deployed it in its Irish facility. Meanwhile, Aligned energy offers the Delta Cube system in a fan-wall.
Stulz's CyberWall system is very much in this mold, with an array of precision cooling units producing a horizontal airflow through a large data center space. The system uses high-performance fan walls made up of electronically commutated (EC) fans with integrated air/water heat exchangers. Stulz claims this allows a cooling capacity of around 100kW per meter of wall length.
The fan-wall is mounted indoors at the end of the aisle, and the warm aisle is separated to remove the air which has been warmed by the IT equipment. Another benefit cited for fan-walls is the topology - the fans are aligned to effectively create a separate corridor and can be maintained by personnel who do not need to enter the area where the servers are.
Stulz says that each CyberWall module can deliver a cooling capacity of 220kW, with a 16°C (61°F) water inlet, and an airflow rate of 55,000m³/h per air conditioning unit.