Cooling company Stulz has updated its CyberAir 3 DX systems to be more flexible, more environmentally friendly and cheaper to run.
The new 3Pro version allows tandem compressors which save energy when handling partial loads, and has a higher cooling capacity with a lower requirement for refrigerant.
Free (or at least cheaper) cooling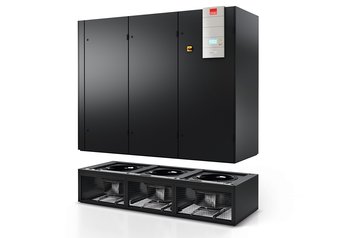 The 3Pro series of precision cooling systems are more flexible than previous models, with a lot of options and sizes from 30kW to 130kW. It comes with internal fans, or external fans for use with raised floors. Options include direct expansion (DX), indirect free cooling (GES models), and chilled water (CW),.
The systems can be customized, with the cooling options combined with different airflow options, including standard ASD (Downflow) and ASU (Upflow) air conduction. "The size, cooling capacity, air conduction and control system can be tailored to meet the precise requirements of mission critical facilities," Stulz said.
Overall, they have the largest possible heat exchanger and filter surface areas for minimal pressure drops, Stulz promises, and have good Energy Efficiency Ratios (EER) and Airflow Efficiency Ratios (AER).