The head of Kazakhstan's cryptomining association claims that roughly 30 percent of legally-registered mining equipment has left the country.
The exodus comes as the country struggles with frequent outages, partially due to cryptomining, and plans to increase how much it taxes the sector.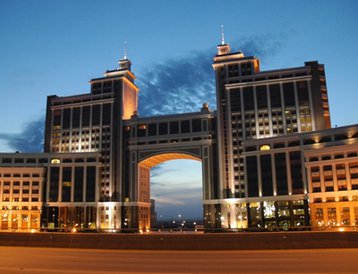 Alan Dorjiyev, the president of the National Association of Blockchain and Data Center Industry of Kazakhstan (NABDC), told Forklog that legally operated cryptomining facilities in Kazakhstan, have already relocated around 30 percent of their mining equipment elsewhere.
The association represents about 70 percent of Kazakhstan's cryptomining sector.
Kazakhstan has regularly enacted rolling blackouts, partially due to a surge in cryptocurrency miners - both legal and illegal. That surge came after China banned mining in 2021, causing miners to move north.
NABDC claims that the government has unfairly targeted cryptominers to cover up deeper issues with the grid.
The country had a nationwide power cut in January, that also impacted Uzbekistan and Kyrgyzstan due to "emergency imbalances."
It also shut down the Internet that month amid widespread protests over a dramatic increase in liquefied gas prices, and deeper dissatisfaction over inequality and government corruption.
President Kassym-Jomart Tokayev declared a state of emergency and said that troops had instructions to shoot to kill without warning. He later restored a price cap on gas prices, and promised some reforms.
The unrest, and the power outages, have impacted cryptominers in the nation. The government has encouraged miners to register with the state, but they then have to pay taxes and can be specifically targeted for power cuts during times of distress. Later this year, legitimate miners will have to pay a surcharge of 1 Kazakhstani tenge ($0.0023) per kWh to pay for the power challenges.
Others, especially those running smaller setups, run the equipment illegally. The Ministry of Energy claims that as much as 1,200MW is siphoned off by illegal miners in basements and abandoned factories.
This month Bit Mining announced that it had abandoned plans to develop a cryptomine data center in Kazakhstan. The company was one of many to relocate large parts of its operations to the country from China, saying in May 2021 that it planned to invest $9.33 million to jointly construct and operate a facility in Kazakhstan alongside a local partner that would have up to 100MW of capacity. It claimed that it dropped the plans due to the "unstable local power supply."
CoinDesk reports that another firm, BitFuFu, abandoned its mining rigs there and purchased new ones to set up in the US following weeks of power rationing.