Cryptocurrency firm Bit Mining has abandoned plans to develop a cryptomine data center in Kazakhstan.
The company was one of many to relocate large parts of its operations from China to the country in the wake of crackdowns, but an aging power grid and state-control of Internet infrastructure have impacted the ability to mine cryptocurrency.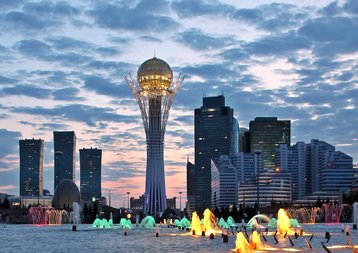 In May 2021, Bit Mining said it planned to invest $9.33 million to jointly construct and operate a facility in Kazakhstan alongside a local partner that would have up to 100MW of capacity. However, this week the company said those plans had been abandoned.
"The company has terminated its data center construction plan in Kazakhstan, which was announced in May 2021, due to the unstable local power supply," the company said in a recent SEC filing.
It noted, however, that its Bitcoin mining machines deployed in third-party data centers in Kazakhstan "remain in operation and have not been impacted."
Bit Mining was a number of crypto companies to relocate from China to Kazakhstan due to the crackdown on cryptocurrency in the former and availability of cheap power in the latter. Kazahkstan quickly became a major hub for crypto mining, becoming the second-largest market after the US. However, Internet shut-offs and power outages leading to Kazakhstan's state electricity provider KEGOC cutting power to miners have impacted the market.
Other firms have left the country; CoinDesk reports that BitFuFu abandoned its mining rigs there and purchased new ones to set up in the US following weeks of power rationing.
Bit Mining, as with many crypto firms, is doubling down on the US. In the same filing, the company noted it had signed an agreement with Viking Data Centers, LLC to acquire a 51 percent equity interest in a cryptocurrency mining data center in Ohio with power capacity of up to 85MW; it said total planned power capacity has been upped to 150MW. The first 50MW phase is expected to be completed in the first half of 2022.
Bit Mining also has a data center in Hong Kong, with a maximum capacity of approximately 1.4MW, that has been operational and mining Etherium since October 2021. The company noted in the filing that it saw an impairment of property and equipment totaling $9.3 million for the fourth quarter of 2021, mainly due to the closure and demolition of data centers in Sichuan, China.
More in Construction & Site Selection