Quantum Loophole, Inc. has begun groundwork on its gigawatt-scale data center campus.
The company this week broke ground on critical infrastructure supporting its Frederick site in Maryland. The initial scope of development includes power distribution and underground power ducts, water and sewer pump stations and piping, underground fiber distribution ducts, roads and entryways, and a variety of environmental projects including tree planting.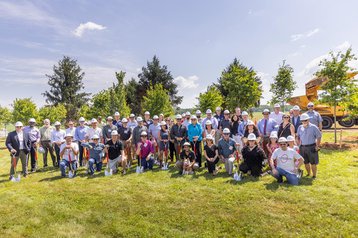 Led by former Terremark and CyrusOne executive Josh Snowhorn, Quantum Loophole has partnered with TPG Real Estate Partners (TREP) and is developing a 2,100-acre data center park around 25 miles north of Ashburn, Virginia, and across the state line on the former Alcoa Eastalco Works aluminum smelting plant.
"We really are building something special here, for the industry and for the community," said Snowhorn. "It's exciting to see the team's vision for sustainable and predictable data center deployments at unheard of scale becoming reality. None of this would be possible without the interest and support of the State of Maryland and of Frederick County."
With aims to create a 1GW campus, Quantum Loophole says it expects to deploy individual data center modules of 30-120MW capacity in less than nine months. Connectivity will be enabled by the company's QLoop network; a conduit system able to hold more than 200,000 strands of fiber and running to Leesburg in Virginia's Loudoun County.
The infrastructure buildout will include two network centers to speed interconnection needs. The centers will feature automated robotic cross-connects powered by Telescent. The campus will also include a "battery farm" to offer large-scale energy storage. The site is due online around 2024.
Aligned is the first company to announce it is buying land at the park to develop a facility; further details about size, power, or timelines hasn't been shared.
The Eastalco site opened in 1970 as a plant for the French and Japanese partnership Howmet/Pechiney. Through a series of mergers and acquisitions, the plant was bought by Alumax in 1983 and by Alcoa in 1998. The facility closed in 2010 and demolition of the facility was completed in 2017. As with many US states, Maryland has passed data center tax incentives that offer an exemption from the state sales and use tax for up to 20 years.
Maryland's Frederick County recently amended its zoning laws to allow data centers, weeks after it was revealed AWS backed out of a project there due to restrictive timelines.
While Maryland is currently the company's only project, Snowhorn told Data Center Frontier that Quantum Loophole is laying the groundwork for similar "data center cities" to serve the Dallas, Chicago, and Silicon Valley markets.
"In some areas we may seek to assemble up to 10,000 acres if we can," said Snowhorn. "We take a very big view of everything. We're doing site selection for everybody and taking care of their problems, including land, water, power, and fiber. And then our customers can just come and deploy capacity. We're the wholesaler to the wholesalers."
More in Construction & Site Selection