Polish data center operator Atman is expanding one of its campuses in Warsaw.
The new F7 building at the firm's Warsaw-1 campus will offer 7.2MW of capacity across 2,916 sqm (31,390 sq ft). The company will be offering 600kW for each of the 12 data rooms.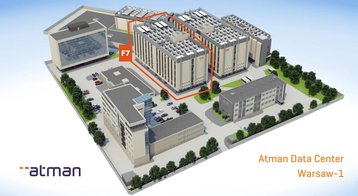 Work at the campus, located at 21a Grochowska Street, has begun and the building is due to be commissioned in February 2024.
Previous plans of two separate F7 and F8 colocation buildings have been converted into one large construction. F7 will be adjacent and connected to the F5 and F6 buildings; the new building will expand the Warsaw-1 site's capacity to almost 9,690 sqm (104,300 sq ft).
Atman began work on the F6 building in 2020; the 1,440 sqm (15,500 sq ft) of net technical space (more than 3,000 sqm/32,300 sq ft gross) and offers 3.6MW.
The company operates three sites across Poland; two in Warsaw and one in Katowice. Once F7 is live the company will have a total data center portfolio of 13,660 sqm (147,000 sq ft) and more than 70MW.
Atman (formerly ATM) was acquired by Goldman Sach's affiliated Global Compute and Taviomer Investments from MCI.EuroVentures in 2020.
More in Construction & Site Selection