Princeton Digital Group (PDG) has signed an energy deal to power one of its Indonesian data centers with Biomass.
The company this week announced it has signed a renewable energy contract with PT Cikarang Listrindo Tbk (CL) to use the company's biomass-sourced energy in its Cibitung data center in Indonesia.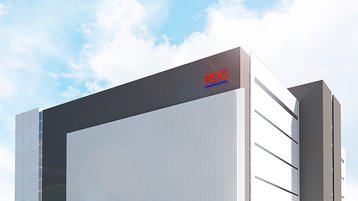 The Cibitung data center has a total capacity of 30MW, of which 20 percent will be powered by renewable energy initially as part of the multi-year contract from this month.
The power will be sourced from CL's mixed fuel plant, CFPP Babelan, and will be the energy provider's first data center client. The power plant has two units, each with a capacity of 140MW with CFB boiler technology. The plant is primarily coal-fired but is also equipped with a biomass handling system.
It is unclear how the company will siphon off just the biomass-sourced energy, as all three of CL's power plants interconnect through a switchyard before distributing to the five industrial estates that they serve, effectively combining the gas, coal, and biomass power sources. DCD has contacted PDG for more information.
"Renewable energy plays a pivotal role in decarbonization. We are taking meaningful steps to ensure that we are progressing not only our sustainability commitment, but also working towards Indonesia's clean energy transition goals as we build the data centers of the future," said Stephanus Tumbelaka, managing director, PDG Indonesia.
"Our agreement with CL enables us to offer sustainable data center services to our customers by substituting conventional power with renewable energy. We are continually exploring opportunities with power providers whose goals are in alignment with ours so that we can build and operate sustainable digital infrastructure together."
PDG has signed several renewable energy agreements for its facilities. In June of this year, the company signed a 25-year deal to procure solar power from Tata in India, and has also signed deals with Indonesia's state-owned electricity firm PLN for geothermal energy in the past which is used at its Jakarta, Bandung, and Pekanbaru data centers.
The company has 21 data centers in six markets including China, Singapore, India, Indonesia, Malaysia, and Japan. PDG is currently in the final stages of construction for its upcoming JC2 campus in Jakarta, which should be operational in Q3 of 2023 with 22MW.