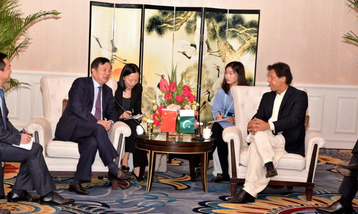 The cable is used by Pakistani ISP Trans World Associates (TWA), which serves around 40 percent of Pakistan.
"In the wake of a fault in one of the international cables landing in Pakistan, alternate arrangements to provide uninterrupted Internet services to the users have been made by relevant service providers through obtaining additional bandwidth," the Pakistan Telecommunication Authority said.
"Work is underway to rectify the fault. However, it may take some time until the fault is removed completely."
The exact nature of the issue has not been disclosed, but the country has been hit by similar problems when cables were damaged or cut.
China is funding another cable to the country, the Pakistan East Africa Connecting Europe cable. PEACE is part of China's Digital Silk Road initiative, connecting France, to Egypt, down to Djibouti.
There, it will split in half, with one section continuing down Africa to Somalia, Kenya, and South Africa. The other section will travel to Pakistan, where it will continue overland up through to China.
The land section, a $240m project in partnership with Huawei, will connect to the Xinjiang Uyghur Autonomous Region, home to Chinese concentration camps.
Nikkei reports the cable is expected to start being laid in Pakistan's territorial waters this March, following government approval this month for ISP Cyberne to construct an Arabian Sea landing station in Karachi.
Much of PEACE and the land cable were funded through Chinese concessional loans - where the country provides low-interest favorable loans, that often ultimately go to paying Chinese companies.
The new cable will reduce Pakistan's exposure to outages from cable cuts, and will also reduce the amount of Internet traffic that first routes through India - a rival to both Pakistan and China.