In a state visit to Beijing, Pakistan's Prime Minister Imran Khan met with founder and CEO of the Chinese telecoms giant Huawei, Ren Zhengfei.
Zhengfei promised a massive investment in the country, and signed a memorandum of understanding to build a cloud data center in Pakistan. Khan directed the chairman of Pakistan's Board of Investment (BoI) Haroon Sharif to remove any hurdles which Huawei, and several other Chinese companies, may face.
That's it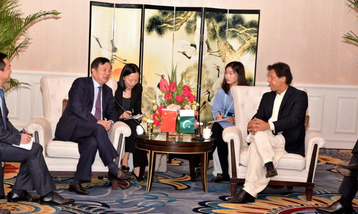 As is common with MoUs, few details were provided, and much remains up in the air. Actual information on the scale of investment, size of the data center, or planned launch date, were not given.
The Ministry of Planning Pakistan said that the MoU for the cloud data center would be "for the finance and media industry in collaboration with Huawei Technologies and Airlink Communication."
Pakistan-based Airlink sells Huawei and Samsung smartphones to the local market, and also operates a 'Huawei Experience store' in Karachi and a Customer Services Center.
Huawei noted that its regional service center employs some 600 IT professionals. The company has other investments in Pakistan - its smartphone division enjoyed a 22.2 percent market share in the second quarter of 2018; its data center division helped deliver the country's first national facility; and its joint venture Huawei Marine is working on the PEACE submarine cable connecting Pakistan to Africa.
The telecoms giant elsewhere hopes to succeed in rolling out 5G infrastructure across the country, with Pakistan planning commercial deployment of 5G services in the second half of 2020.
Also of interest are Huawei's smart city and surveillance efforts. In 2016, the company was awarded an Rs12 billion ($84.7m) contract to install 10,000 surveillance cameras in Lahore as part of a controversial surveillance system that China is exporting around the world. Those cameras generated further controversy when the Punjab Safe City Authority discovered the system's CCTV cabinets included previously undisclosed WiFi transmitting cards. The cards were removed.
Huawei has other smart city projects in the country - some with Chinese state backing. The 'Safe City Islamabad' project saw the Chinese government give Pakistan roughly $124 million in concessional loans to spend on Huawei technology in the city. The loan has to be paid back in 20 years at a two percent interest rate.
A similar project is also underway in Peshawar, this time with $110m in concessional loans.
Such tied loans are crucial to Huawei winning contracts around the developing world. In a Pakistani Supreme Court hearing on the Islamabad project, it was revealed that another company had proposed a smart city and surveillance project, so a new procurement bidding process (PC-I) was considered.
But, "it is also apprehended that preparation of new PC-I would delay the project as there was no assurance of foreign funding, particularly of Chinese concessional loan, for a new PC-I based on the generic specifications,."
The court continues: "Ministry of Interior has been endeavoring to install safe city technology for the past more than three years, without success, mainly due to non-availability of funds. The Chinese assurance of availability of concessional loan for security related projects has led to the formulation of safe city Islamabad and Peshawar projects."
Other details revealed include: "Huawei Technology Co. has been greatly instrumental in arranging soft loan. The soft loan request is tied to Huawei Technology co-proposal. The loan offer is likely to be diverted to other countries (Sri Lanka) if not availed in time."
It continues: "It is never advisable to publicize security project's capabilities. China wants such projects to be done in [a] low profile."
Across various industries and infrastructure projects, China in 2015 pledged $60 billion to build the China-Pakistan Economic Corridor (CPEC), part of the wider Belt and Road Initiative.
Khan, who is in China at the Belt and Road Forum for International Cooperation, previously spoke out against CPEC, with his Pakistan Tehreek-e-Insaf (PTI) party intimating that then-Prime Minister Nawaz Shariff and his close aides were colluding with Chinese companies for monetary gain.
But, with Pakistan heavily in debt - both to China and others - Khan has had to balance his misgivings with the initiative, with a need to fuel economic growth.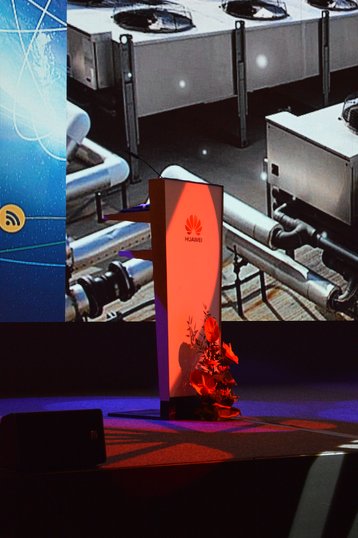 The wider picture
While China and Pakistan remain close allies, making business relatively easy for Huawei, things are a little more complicated in the west.
The company faces claims of being a tool of the Chinese state, with allegations of spying, and intentional backdoors. Ren Zhengfei's daughter Meng Wanzhou separately faces charges of circumventing US trade sanctions against Iran. The company denies all such allegations.
With the US government asking its allies not to use Huawei equipment, and several nations pausing, canceling or otherwise readjusting their rollout of the company's equipment, its actions have come under renewed scrutiny.
Earlier this month, The Times reported that the CIA claimed that Huawei had taken money from the People's Liberation Army, China's National Security Commission and a third branch of the Chinese state intelligence network. Also this month researchers published a paper trying to work out who actually owns Huawei - with the results proving confusing and inconclusive.
But despite some countries banning its products in critical infrastructure, and heavy lobbying by the US, Huawei's business continues to grow.
The company said it had shipped over 70,000 5G base stations in the first quarter of 2019 and signed 40 contracts to provide carriers with 5G equipment. It is also still set to be deeply involved with UK telecoms.
The Daily Telegraph reports that at a National Security Council meeting Prime Minister Theresa May said she would allow Huawei limited access to build parts of the 5G network such as antennas and other "noncore" infrastructure. The article sparked concern in Westminster - not just for the substance of the article, but also because of the fact that the NSC leak must have come from a senior official.
Foreign secretary Jeremy Hunt, defense secretary Gavin Williamson, development secretary Penny Mordaunt, and home secretary Sajid Javid denied being the source of the leak.
Defense minister Tobias Ellwood wrote in the Telegraph: "The debate over Huawei masks the need for a more urgent and significant conversation about China's place at the international table which must include gaining agreement on an operational framework to support future security and trade relationships.
"Until these wider geopolitical issues are resolved, we should be cautious over granting Huawei direct access to our networks."