Orange is to deploy a solar farm at a satellite ground station facility in France.
The telco said this week it has signed a memorandum of agreement with solar panel solution provider Reservoir Sun and plans to deploy its first solar farm in Europe at its satellite communications site at Bercenay-en-Othe in Aub.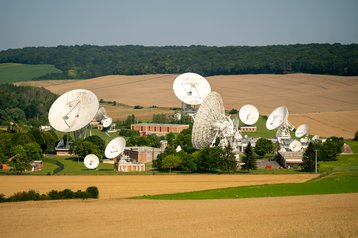 Set to go live in 2025, the solar farm will cover a surface area of 50,000 sqm (538,200 sq ft) with an installed capacity of 5MW (1MW for self-consumption and 4MW for reinjection). The power station will supply 20 percent of the site's energy needs and surplus electricity can be fed back to the grid.
Michaël Trabbia, interim CEO for Orange Wholesale and International Networks, said: "We are happy and proud to launch an ambitious local solar farm project at our Bercenay-en-Othe site. This solar farm reflects our additionality approach and is fully in line with our strategy to develop the use of low-carbon energies, in order to contribute to our environmental commitments. This project thus contributes to securing our energy supply while decarbonizing our activities."
Reservoir Sun was formed in 2018 by Engie and Casino subsidiary GreenYellow to provide on-site solar solutions for companies.
Mathieu Cambet, Managing Director of Reservoir Sun, added: "Reservoir Sun is very proud to have been chosen by Orange as a trusted partner for its first solar power project on one of its own sites. We hope that this shared project will mark the start of a strong collaboration to take on the challenges of decarbonization and local energy production."
The company said the first step was the environmental impact analysis required to carry out the project, in agreement with the DREAL (Regional Directorate for the Environment, Planning, and Housing). The study will be carried out over a period of up to 12 months to determine the potential impact of the project on living species on the site.
The WTA Tier 4-rated Bercenay-en-Othe teleport was originally founded in the 1970s when what was then France Telecom collaborated with the French army on a project to provide French overseas departments and territories with telecommunications coverage. In a 2018 piece, Orange's Thomas Girardin said the site operates 32 antennae; the largest and oldest is the BY1 antenna spanning more than 30m.
Last year, Orange outlined several energy-saving measures as the French telecoms giant looked to combat an ongoing energy crisis in Europe. It is looking to reduce five to 10 percent of its instantaneous electricity consumption for one hour per day.
Orange has previously partnered with Engie to deploy on-site solar at its data center in the Ivory Coast. The telco has also placed solar panels on the roofs of its Polish data centers. Orange has entered into Power Purchase Agreements with Boralex, Engie, and TotalEnergies to cover the energy consumption of its French data centers.
GreenYellow has helped deploy solar farms for Brazilian firm Oi to power its telco network.