Low Earth Orbit (LEO) satellite firm OneWeb has "moved on" from hopes that it may see the 36 satellites held by Russia be returned to the company.
Speaking at the Satellite 2023 event last week, OneWeb CEO Neil Masterson said that the company has largely given up on retrieving 36 satellites currently held by Roscosmos at a launch site in Kazakhstan.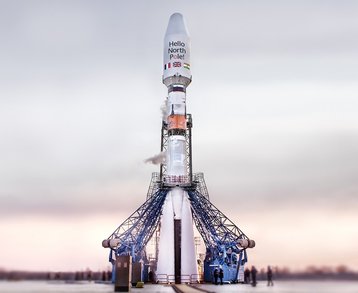 "I spend no time thinking about it. We've completely moved on," Masterson said, deferring any future retrieval efforts to government authorities. "There is value in getting them back, but I can tell you that I'm not getting them back any time soon."
The comments were reported by several outlets, including Reuters.
The satellite company had been due to launch 36 satellites in March 2022 via a Soyuz rocket from a Russian-owned launchpad in Baikonur, Kazakhstan. But, in the wake of Russia's invasion of Ukraine, Russian space agency Roscosmos said it was limiting access to its Soyuz rockets – the type used by OneWeb's original launch partner Arianespace. The agency then demanded the UK government divest its stake in OneWeb.
In response to Roscosmos' actions, the satellite firm announced it was no longer launching its satellites from the facility. A total of six launches from the facility were canceled.
In its annual 2022 report published in September, the company noted an impairment charge of $229.2 million to reflect the losses suffered as a result of the postponement of the flights. It also noted the satellites, valued at around $50 million, hadn't been returned. At the time, OneWeb said "negotiations are ongoing" with vendors for the recoverability of the satellites.
The company noted it was quickly able to replace the satellites, which can be manufactured at a rate of two per day. "The bigger issue for us was not so much the satellites, it was securing the launches," Masterson said last week.
In the wake of losing access to its planned launches, the company rapidly secured deals with rival firm SpaceX and Indian space agency ISRO. OneWeb is set to launch its final batch of satellites from India in late March.
Earlier this year Russian Space Web reported that Arianespace might be looking into a deal with Roscosmos in which the company and agency will swap components of the Russian Soyuz rocket for the OneWeb satellites. The Russian space agency currently has a number of Soyuz components at the European launch site near Kourou in French Guiana that it is unable to retrieve.