Hong Kong-based service provider OneAsia is to adopt Submer's Smartpod immersion cooling.
The system is aimed at applications such as AI and machine learning, which require high energy use. The Submer Smartpod immerses servers in a dielectric bath, with a cooling distribution unit to remove the heat and utilizing a CDU, circulates cooling fluid to remove heat. It will be available to OneAsia customers in September.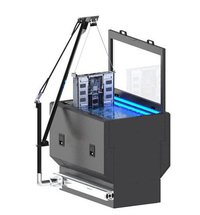 Immersion cooling has become increasingly popular, because it removes heat more efficiently, and allows higher densities in the racks. At the same time, it consumes less energy in removing that heat, while delivering the heat in a useable form, as hot water.
Bringing immersion to HK
OneAsia says it is the first data center operator to offer immersion cooling in Hong Kong, and expresses the hope that this might allow the Chinese special administrative region to reach a target of reducing its energy intensity by 40 percent before 2025.
It is possible that One Asia is the first operator to offer immersion cooling to customers - but we did note in 2013, that Hong Kong-based Allied Control built a 500kW in-house data center for a single unnamed client using a passive two-phase liquid immersion cooling system from 3M.
The company plans to extend the system, making it available in data centers across Greater China as well as East and Southeast Asia.
OneAsia says facilities with a power density greater than 30kW per rack must abandon air cooling in favor of immersion cooling: "For such facilities (rack power requirements are reaching close to 20kW in many facilities, and many organizations are looking to deploy racks with requirements of 50kW or more), liquid cooling is not a choice, but a necessity."
OneAsia lists other benefits of liquid cooling, familiar to DCD readers. These include improved reliability, with servers protected from vibration, humidity, and dust; improved efficiency, thanks to the better thermal transfer properties of liquids.
No fans are required in the racks, and the units do not consume water, giving a lower environmental impact, including a 45 percent lower carbon footprint than air-cooled data centers, and a PUE of 1.09 or lower.
The systems also free up floor space, and potentially provide a source of captured heat that can be reused.
Charles Lee, Founder and CEO of OneAsia parent Legan Group said: "The introduction of this immersion cooling solution demonstrates our dedication to providing the best colocation solutions that enable customers to meet the increasingly demanding heat dissipation and power requirements for IT infrastructure today."
Lee adds that OneAsia's expertise in end-to-end solutions for digital infrastructure means that the new immersion cooling solution will offer the long-term benefits of enabling sustainable, future-ready data centers anywhere, and will help to build a more resilient digital infrastructure.
OneAsia reports that data centers currently use some four percent of Hong Kong's electricity. As the city gets most of its electricity from fossil fuels, this means all Hong Kong data centers have a higher global warming impact than data centers built near a renewable supply.
Data centers in Hong Kong use over 37 percent of their electricity in air conditioning (cooling) which is higher than the figure of 25 percent across the whole commercial sector, One Asia says.
Building-related activities account for some 90 percent of Hong Kong's total electricity consumption, One Asia says.