NTT Ltd. has announced plans for a new data center campus in Northern Virginia's Prince William County.
The company this week announced it had purchased 103 acres of land in Gainesville, Virginia, from private developer Lerner Enterprises. Terms of the deal were not disclosed, but the Commercial Observer reports the price was around $257.4 million.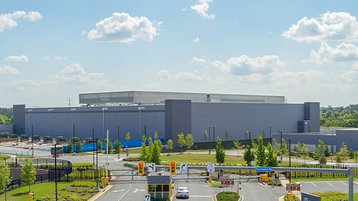 NTT said it aims to develop a 336MW data center campus on John Marshall Highway spanning four buildings and more than two million square feet (185,800 sqm) of data center space. The first two-story building is to open in the second quarter of 2024; at full build-out, the Gainesville site will be the company's largest campus in the US.
"The development of a new data center campus in Virginia is testament to our huge growth and momentum across North America", said Doug Adams, President and CEO at NTT Ltd., Global Data Centers Americas. "This strategic purchase of land is just one of the many steps we're taking to accelerate our data center footprint across the country. We look forward to welcoming our clients to the new campus once construction is complete."
NTT currently operates one other campus in Northern Virginia taken over from RagingWire; a 78-acre campus in Loudoun County's Ashburn, with nine planned data centers totaling 224MW of critical IT load and 970,136 sq ft (90,100 sqm) of data floor space.
"The purchase of land in Prince William County is part of a diversified strategy as we look to expand into new and important areas of growth. The development of our new campus in Virginia will be one of 14 ongoing projects taking place across the globe," said Masaaki Moribayashi, President and Board Director, NTT Ltd.
2022 has seen NTT launch facilities in Spain, Indonesia, and India, expand existing locations in the UK and Switzerland, and announce plans for new data centers in Vietnam. Projects in Austria, Germany, and South Africa are ongoing.
NTT has been on an expansion spree across the US. In 2021 the company has launched new data centers in Silicon Valley, Oregon, and Illinois, and announced a new campus in Arizona. Bruno Berti, VP of product management at NTT Global Data Centers, last year told attendees at a DCD event that Covid-19 led to customers trying to reserve "double or triple" their capacity at its data centers.
More in Construction & Site Selection