Nokia has launched a new network hardware range to automate and simplify data center operations.
The company's 'Data Center Fabric Solution' includes a scaleable set of routers, a new Network Operating System (NOS), and an Automation and Operations toolkit.
The products were developed over two years in collaboration with hyperscale companies, including Apple. Nokia will compete for a $12bn market currently dominated by Cisco, Arista, and Juniper.
Automating the network
The NOS, Nokia Service Router Linux, is built on Nokia's Internet protocol suite, SROS, which it says has been deployed in more than one million routers globally. Running on the open-source Linux, the company claims it is the first fully modern microservices-based network operating system.
The Fabric Services Platform (FSP) toolkit, meanwhile, will let NetOps teams create a digital sandbox for real-time fabric simulation. It is designed to help deploy and monitor an entire data center's network, with multi-vendor facilities in mind.
The range also includes the Nokia 7250 Interconnect Routers (IXR), Nokia 7220 IXR-H series, and Nokia 7220 IXR-D series routers.
SR Linux, 7250 IXR, and 7220 IXR-D series are currently available, while the FSP toolkit and 7220 IXR-H routers are expected to be available later this year.
The switching portfolio supports 400GE, 100GE, 50G, 40GE, 25GE, 10GE, and 1GE interfaces, as well as IP routing, layer two switching, QoS, scalable telemetry, security, and model-driven management.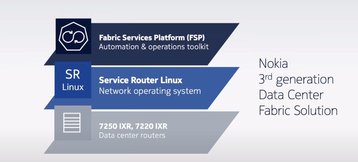 "Today's massive data centers have unique operational challenges. The SR Linux project was the proverbial 'clean-sheet' rethink, drawing from our partnership with Apple and others," Basil Alwan, president of IP and Optical Networks at Nokia, said:
"The resulting design is impressive in its depth and strikes the needed balance for the future."
The new range has already attracted some big names, such as Apple, BT, Equinix, LINX, team.blue, and Turkcell.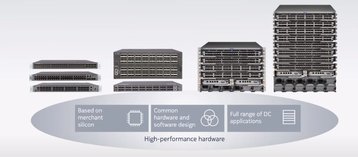 Apple said it would be using the new kit to improve its networking and routing capabilities at its Viborg facility, in Denmark, and BT Group said it was using the range to further its efforts in 5G with "the extreme automation and scaling of [its] telco cloud."
Muhammad Durrani, senior director of Network Architecture at Equinix, said: "We're pleased to see Nokia getting into the data center networking space and applying the same rigor to developing a next-generation open and easily extendible data center network operating system while leveraging its IP routing stack that has been proven in networks globally.
"It provides a platform that network operations teams can easily adapt and build applications on, giving them the control they need to move fast."