Spanish data center firm Nixval has put forward a competing proposal to develop a facility in Valencia in the building where Nethits was hoping to build.
Nethits has been planning to build a data center in the Docks building in the Marina de València since last year; the company is aiming to build a 16MW facility with capacity for 1,000 racks.
The existing building was designed in 1917 and spans two stories, but will be expanded to a height of five stories and house the company's new headquarters. Servers and computer equipment will occupy three floors.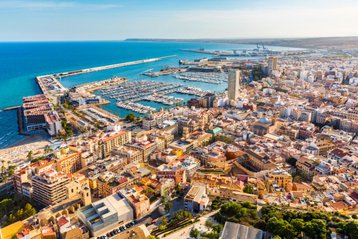 However, Valencia Plaza reports that local data center firm Nixval has submitted an alternative project to convert the property into a data processing center but plans to preserve the existing facade.
The new plan involves two buildings separated by a walkway; one 8MW data center with an area of ​​5,132 square meters (55,250 sq ft) spread over two floors and five data halls; and another office building spanning ​​3,463 sqm (37,250 sq ft). Two of the halls will be for 'high-density colocation' and utilize liquid immersion cooling. The company is planning to invest around €40 million ($39m) in the project.
"The design of the Nixval has been carried out following the latest generation patterns to obtain a technologically innovative center, but putting ecology and integration in the urban environment first," according to the proposal. "This is a project that seeks the readaptation of the historic building, but promoting its integration with the privileged environment of the port. It is a project that combines the conservation of the historical heritage of the Docks with state-of-the-art technological services, always with the perspective of energy efficiency and respect for the environment."
The local council released Nethits' plans for public display for a period of 30 days so that other offers that may also be considered of public utility or social interest could be presented. VP reports that as there is another alternative, the Valencia City Council will now have to put the space out to tender to give the option to submit different proposals and make an assessment of them through a bidding process.
The existing building has reportedly been empty since 2016, after its previous tenant the Las Animas nightclub was closed for failing to meet various requirements demanded by the council to remain active. Proposals during the interim years have included a five-star hotel with a casino, and the location for the CaixaForum arts center.
Founded in 2002, Nixval currently operates one 1,500 sqm (16,150 sq ft) data center at Villa de Madrid 44 in Valencia. The building was built in 2000 and renovated in 2008; Occentus also has a presence at the site.
Founded in 2006, Valencia-based Nethits provides a number of network, telephony, IPTV, and Wi-Fi solutions, with a number of services targeting the hotel industry.
More in Construction & Site Selection