A new healthcare data center has opened in Lincolnshire, UK.
The United Lincolnshire Hospitals NHS Trust announced this week it had spent £1 million ($1.2m) on a new 'state of the art' data center in the English Midlands.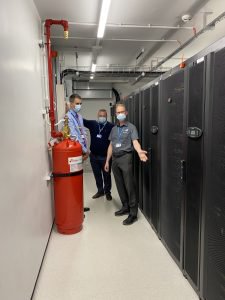 Specifications or precise location weren't shared, but the Trust said the new data center has the capacity to host 'at least 300' virtual servers and has one petabyte of fast storage and two petabytes of backup storage. The facility uses a 'hot aisle' air conditioning system. The new facility is in addition to the Trust's existing data centers to increase overall storage capacity.
"Members of our Digital Services Team, supported by other colleagues, have been working tirelessly behind the scenes to create this new state-of-the-art hub that will benefit patients and almost every single colleague across the Trust," said the Trust's Director of Finance and Digital, Paul Matthew, who officially opened the facility.
"The Digital Services Team could not have done their part, without the support of our Estates, Procurement and Finance Teams, as well as external partners. It really has been a brilliant team effort."
The Trust runs County Hospital Louth, Lincoln County Hospital, Pilgrim Hospital in Boston, Skegness and District Hospital, and Grantham and District Hospital.
The news is one of a number of data center projects happening across UK hospitals over the last 18 months
London North West University Healthcare NHS Trust (LNWH) recently appointed Keysource, to undertake a live upgrade of the data center at Ealing Hospital. The company said the 11-rack facility would undergo an upgrade of its Mechanical and Electrical Systems to 'improve resilience, energy efficiency and reduce carbon footprint,' including the deployment of a new Modular UPS System.
Earlier this year modular data center firm Secure I.T. Environments said it completed data center infrastructure upgrades at two unnamed hospitals in South West England. Both projects entailed updating 20-year old data centers; one with new air conditioning systems and the other with a new UPS system. Norfolk & Norwich University Hospital also received a containerized data center from Secure I.T. Environments.
AWS has won several NHS contracts, including from NHS Scotland and Track & Trace.
However, London-based Guy's and St Thomas' NHS Foundation Trust experienced a significant IT outage during the recent UK heatwave. The hospitals' IT systems were knocked out by "ludicrous heat" leading to a failure in the data center's air-conditioning, according to the Trust's Chief chief digital information officer Beverley Bryant. She said the Trust's servers "couldn't handle the heat and collapsed in an unmanaged and uncoordinated way."
In the US, St. Joseph's Health recently announced the opening of a new outpatient facility in Totowa, New Jersey. The 140-acre site will be developed in phases and eventually include a new data center, though details were scarce.