New data centers are unlikely to be built in Dublin or along the east coast of Ireland, according to the Irish Development Agency (IDA).
EirGrid has installed a de facto moratorium on new data center developments in the greater Dublin area, saying it will consider new applications for connection to the grid on a case-by-case basis in the wake of a Commission for Regulation of Utilities (CRU) decision to limit their impact. Local Irish press report the IDA intervened to prevent an outright ban and ensure EirGrid would at least consider new applications.
Responding to a question by People Before Profit-Solidarity TD Paul Murphy, IDA CEO Martin Shanahan said new data centers "are unlikely to happen in Dublin and the East Coast, at this point."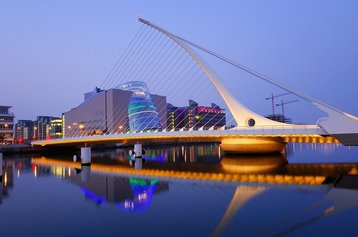 Despite that statement – first reported by Independent.ie – the IDA said it is committed to developing new data centers and will provide "stable demand" for future offshore wind energy to meet demand.
"Data centers are a component of the technology sector and we have benefited hugely from the technology sector," said Shanahan. "That is where enterprises are going. That is where valuable jobs will be going. And data centers will be key to underpinning that. And where companies need data center solutions, we will engage with those."
Shanahan said data centers will help to generate a "stable energy demand" for future offshore wind farms, of which Ireland currently has only one.
"Offshore wind should become a reality and my expectation is it will, and there are significant amounts of it required, and [it] will require a stable demand and data centers provide that stable demand," he said.
Environmentalists and political parties including the Social Democrats and People Before Profit have called for a nation-wide moratorium on future data center projects, because the state-owned utility EirGrid has warned that they already use more than 10 percent of the country's electricity supply, and this could grow to 30 percent by 2030, potentially causing "rolling blackouts" and making it impossible for the country to meet its targets to decarbonize its grid so that 80 percent of the nation's electricity must come from renewable sources by 2030.
Data from Ireland's Central Statistics Office (CSO) suggest electricity consumption by data centers in the country increased by 144 percent between 2015 and 2020. Niamh Shanahan, Statistician in the Environment and Climate Division of the CSO, noted: "This is the first time the CSO has published figures on electricity consumption by data centers. Data center consumption increased from 290 Gigawatt hours in January to March 2015 to 849 GWh in October to December 2020. The increase in consumption was driven by a combination of existing data centers using more electricity and new data centers being added to the grid."
AWS is reportedly facing pushback from one of Dublin's local councils over its latest planned data center, which is requesting the hyperscaler prove another facility in the Clonshaugh Business and Technology Park won't over-saturate the area.
More in Construction & Site Selection