Real estate development company Fakt AG and telecoms firm Dokom21 are to build a new data center in Herne, Germany.
The 900 sqm (9,700 sq ft) facility will be in the Shamrockpark in Herne; a city in Germany's west and close to Essen and Dortmund.
Fakt AG acquired Shamrockpark in 2018. Formerly the headquarters of coal mining corporation RAG AG, the 100,000 sq m (1 million sq ft) site offers a mix of residential and business space. The company says there was a data center previously on the site, but will modernize the location extensively.
Fakt AG and Dokom21 forming new partnership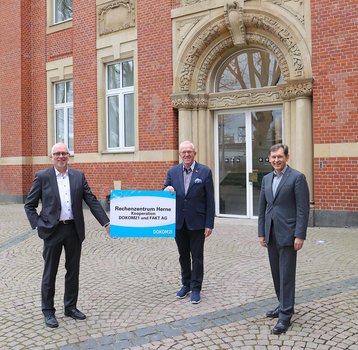 "The new data center in Shamrockpark not only means a strengthening of the business location Herne, but it will also have positive effects for companies in the entire Ruhr area," said Prof. em. Hubert Schulte-Kemper, CEO and founder of Fakt AG. "Therefore, I am very pleased about the cooperation with Dokom21 that has now been agreed, which will technically set up and operate the data center in Shamrockpark Herne as a telecommunications service provider."
Specifications of the new facility weren't shared, but the facility will have redundant fiber optic connections in a multi-carrier strategy, redundant power supply, energy-efficient cooling and be connected to major Internet backbones such as DE-CIX (Frankfurt), E-CIX (Düsseldorf) and Ruhr-CIX (Dortmund, Herne, Gelsenkirchen).
"The demand for data center services is still high and continues to rise: Due to the rapidly increasing data growth and the increasingly complex IT infrastructure, many companies are opting for the secure outsourcing of their systems to our data centers," said Dokom21 managing director Jörg Figura.
"The combination of the competencies of Fakt AG in the field of project development for municipal infrastructure and the experience of Dokom21 in the construction and operation of data centers offers ideal synergies."
The two companies announced last month that they are also working together to build a 700 sqm (7,500 sq ft) data center in the city of Essen in the former headquarters of gas company Ruhrgas.