CyrusOne plans to develop a 17MW data center in Frankfurt, Germany.
The facility will be the fourth by CyrusOne in Sossenheim, a district of Frankfurt.
Let's be frank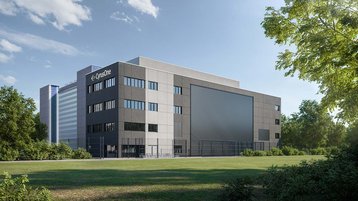 Frankfurt IV will increase the company's regional capacity up to 90MW when it joins CyrusOne's campus of two operational facilities and one shell.
Matt Pullen, MD of CyrusOne Europe, said: "Demand in Frankfurt continues to be driven by hyperscale providers, which accounted for 80 percent of the market's take-up in 2019.
"CyrusOne is uniquely positioned to serve the hyperscale community in Frankfurt. We have had tremendous success in the market over the last five years through selecting the right locations and deploying capital to support our customers' requirements.
"Our flexibility in accommodating their needs from a design, delivery, and commercial perspective allows them to execute quickly and easily."
Frankfurt IV will comprise 4,800 sq m (51,667 sq ft) of technical space within a single four-story building. The data center follows CyrusOne's standard design plan featuring closed-loop chilled-water cooling.
CyrusOne has been focusing on expanding its European foothold for some time, with its third data center in Sossenheim breaking ground back in July 2019.
The facility consisted of two four-story facilities and has a capacity of around 22MW across 11,500 sq m (123,786 sq ft) of technical space.
This was soon followed by CyrusOne announcing it was building a data center in Dublin, Ireland, in September 2019.