NEC Corp is to expand two of its existing data center campuses in Japan with new buildings.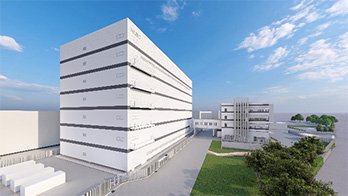 Accounted this week, the NEC Kanagawa Data Center: Phase 2 Building is scheduled to open in the second half of 2023, and the NEC Kobe Data Center: Phase 3 Building is slated to begin operations in the first half of 2024.
Specifications for either building were not shared.
The company said both facilities will utilize 100 percent renewable energy through a combination of self-generated electricity from solar power sources, a green power certificate, and a non-fossil certificate with tracking. NEC has set a 2030 target to reduce its greenhouse gases by 55 percent compared to FY2017.
According to its cloud solutions page, NEC operates three data centers; one in Kobe to the west of Osaka, another in Kanagawa to the south of Tokyo, and one in the Inzai area to Tokyo's east which was completed earlier this year.
In 2018 NEC said it would spend 20 billion yen ($186 million) building two data centers to support demand from US cloud companies. One of the data centers was due to be a 12 billion yen ($11.1m) addition to an existing site in Kobe to double the capacity of the complex (known as Kobe Phase 2).
The other 8 billion yen ($74.4m) will be spent on a new data center in Nagoya to serve customers in central Japan, which opened in April 2019.
As well as the three cloud facilities and Nagoya, the company also has data centers in Ehime prefecture on Shikoku Island; Fukuoka City on Kyushu island; Sapporo City on Hokkaido island; Hiroshima; Tokyo; and Kanagawa Prefecture but separate to the cloud Kanagawa facility in Kawasaki City, Yokohama City, and 'East Japan'.
More in Construction & Site Selection