Nautilus Data Technologies, the company known for its floating data centers, has raised $10 million and is due to raise $40 million more by the end of the year.
The firm this week closed on a $10 million Convertible Note on a $50 million round led by UIL Limited. The Convertible Note calls for a second close of $40 million in 2021.
Third500 advised on the Convertible Note transaction and is advising on its remaining syndication. The company closed its Series C funding round led by Mancal Corporation in December 2020.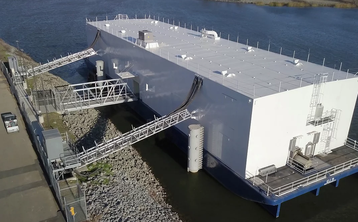 "We are excited to have UIL lead," said James L. Connaughton, CEO of Nautilus Data Technologies. "With our first data center commissioned in Stockton, California, projects in development in the US, Europe, and Asia, a global project development and construction partnership with Bechtel, and an expanded and deeply experience leadership team, we are poised for growth directly and through joint-venture partners globally."
London Stock Exchange-listed UIL Limited is a closed-end investment company holding gross assets of more than £550 million ($700m).
Founded in 2015, Nautilus commissioned its first water-borne data center in June. The 7MW Stockton1 data center at Port of Stockton, California sits on the deck of a barge on the San Joaquin River and has 10,000 sq ft of floor space.
In June Nautilus announced it was building a 60MW data center on dry land, on a former paper mill in Millinocket, Maine.
The company secured a $100 million loan from investment firm Orion Energy Partners last year. Singapore-based Keppel invested $10m in Nautilus in 2017.