Singapore's Home Team Science and Technology Agency (HTX) this week signed a strategic agreement with Microsoft to develop a sovereign cloud to accelerate digital transformation and innovation for HTX, and address emerging technology needs across Singapore's Home Team Departments. The agreement will also introduce new skilling, job development, and training initiatives.
The two parties said the sovereign cloud will be built on Microsoft's Azure platform and "equip HTX with on-demand, high-performance cloud computing and data storage resources." As noted by the Register, HTX didn't provide details of sovereign capacity, including the location, ownership of infrastructure, and where operating responsibilities lie.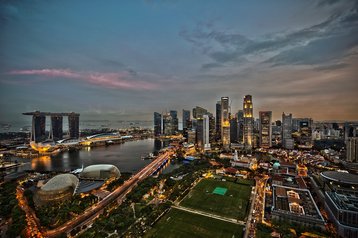 "This strategic partnership with Microsoft to develop a Sovereign Cloud here in Singapore will enable us to push the boundaries of innovation and be in the forefront of technology," said Chan Tsan, CEO of HTX and concurrently the Deputy Secretary (Development) of Ministry of Home Affairs. "This way, we will be well-poised to exponentially enhance the capabilities of the Home Team and to keep Singapore as the safest place on the planet."
As part of the agreement, Microsoft will provide additional training and educational opportunities, including 600 training seats along with exam certificates that will be made available annually to HTX. This training will advance the technical skills of cloud technology professionals in Singapore.
Judson Althoff, executive vice president and chief commercial officer, Microsoft, added: "We're delivering a trusted sovereign cloud that adheres to and meets the needs of the Singapore government - one that will expedite their digital transformation efforts. Our agreement will enable key technological advancements and provide access to data and insights to help drive change across various communities."
In 2018, Singapore laid out a five-year plan to migrate 70 percent of its less sensitive government IT systems from on-premises infrastructure to the cloud. Updates since suggest close to 600 systems had been migrated.
Microsoft opened a three-availability zone Azure cloud region in Singapore in 2010. It's unclear if the new 'sovereign cloud' would be housed in the same facilities, but building new data centers in the city-state is still restricted.
Singapore is slowly emerging from a near three-year moratorium on new data center developments; this year the Singaporean government has said it would finally relax the restrictions, but set new conditions. New applications for new data centers will commence from the second quarter of 2022, but only a maximum of three applications will be approved during this pilot phase with capacity ranging from 10MW - 30MW, according to government officials.