Microsoft's latest quarterly earnings report beat analysts' expectations with revenues of $36.9 billion (up 14 percent), and a net income of $11.6 billion (up 38 percent).
Its Intelligent Cloud business - which includes Azure as well as some other as-a-Service products - jumped in revenues by 27 percent to $11.9 billion. That puts its annual run rate at $47.6bn.
Every cloud has a gold lining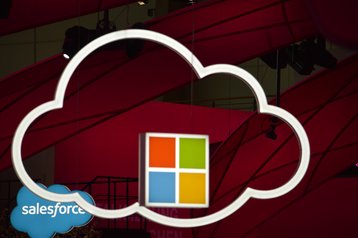 As Microsoft does not split Azure off from the wider cloud business, it is not known how successful it is, and it is hard to accurately compare the results to that of rivals Amazon and Google.
Microsoft did reveal, however, that Azure revenue grew 62 percent over this time last year. It also said that it had a higher gross margin percentage on Azure than before. Office 365 Commercial revenue grew 27 percent, 'Office Consumer products and cloud services' grew 19 percent, and Dynamics 365 grew 42 percent.
"We have more data center regions than any other cloud provider and will be the first to open in Israel and Qatar, expanding our footprint to 56 in total," CEO Satya Nadella said in an earnings call (via SeekingAlpha). Capital expenditures rose 17 percent to $4.5bn, with cloud investments cited as the major reason.
Nadella also noted that "the US Department of Defense chose Azure to support our men and women in uniform at home, abroad, and at their tactical edge." He did not, however, mention that Microsoft's DoD contract, worth up to $10bn over 10 years, is currently facing a legal challenge from AWS. Amazon alleges President Trump blocked it from winning the JEDI contract, due to personal animosity against CEO Jeff Bezos.
Looking forward to the next quarter, CFO Amy Hood said: "Commercial cloud gross margin percentage will continue to improve year-over-year, although at a lower rate than last quarter given the growing mix of Azure consumption-based services. And we expect a sequential dollar increase in our capital expenditure as we continue to invest to support growing demand."
She added: "For Intelligent Cloud, we expect revenue between $11.85 billion and $12.05 billion. In Azure, revenue growth will continue to reflect the balance of our strong growth in our consumption-based business and moderating growth in our per user business, given the size of the installed base.
"Growth in our on-premise server business should be high single digits, again driven by strong hybrid demand as well as some continued benefit related to the end of support for Windows Server 2008."
Gaming revenue, currently down as the Xbox One nears the end of its lifecycle, is expected to pick up when the successor the Xbox Series X launches later this year. With it, it is expected the company will further roll-out its cloud gaming service, xCloud.