Meta has sold land in Mesa, Arizona, to data center developer company EdgeCore Internet Real Estate for ~$1.2 million.
Located at 3856 S. Everton Terrace and totaling around 15 acres of land, EdgeCore has purchased the lot as part of its large investment in the Phoenix metro.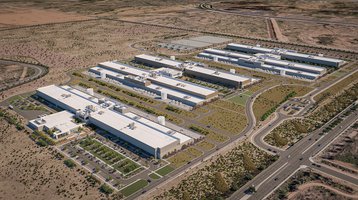 The Phoenix Business Journal reported that Meta has sold the land as it didn't need it, and wouldn't be working with EdgeCore on further development. The adjacent parcel of land that Meta also owns has not been sold.
According to Inflect, EdgeCore is planning to build a 225MW data center campus on the land. The total floor space is expected to reach 1.2m sq ft (~116,130 sqm) and will offer wholesale leases. DCD has reached out to EdgeCore for comment.
The company already has a significant campus on the Elliot Road Technology Corridor in Mesa, on the outskirts of Phoenix. The campus covers 1.1m sq ft (~101,200 sqm) and offers 170MW of capacity across five data centers. The company has further data centers in Ashburn, Virginia; Reno, Nevada and Silicon Valley, California.
In 2021, Meta acquired 396 acres in Mesa under the pseudonym Redale LLC for an $800m data center at 3841 S Ellsworth Road. It is likely part of this land that Meta has sold to EdgeCore. The company later expanded this project, adding another three buildings. The first building of the project is expected to be delivered in 2023 and the 2.5 million sq ft campus is expected to be completed in 2026.
It is unclear if Meta is reconfiguring its plans at the site due to its 'rescoping' of several of its data center projects designs to better accommodate AI workloads. DCD has reached out for more information.
As DCD exclusively reported in December, the company has ripped up its data center plans and is pausing projects around the world as it redesigns them for AI workloads. It first canceled its Danish data center expansion outright, before pausing projects in Texas, Idaho, and Alabama.