Recently-formed infrastructure consortium EdgeCore Internet Real Estate has broken ground on a $150 million, 180,000 square foot (16,700 sq m) data center in Mesa, Arizona - the first phase of a larger development.
The group also got closer to breaking ground at the Tahoe Reno Industrial Center this week, as part of a plan to build six US data centers.
EdgeCore was launched last month as a partnership between Mount Elbert of Colorado, Singapore's foreign reserve investment firm GIC and Canadian pension fund manager OPTrust. The three firms have invested a total of $800m in equity, expecting to support $2bn in data center projects.
Not wasting time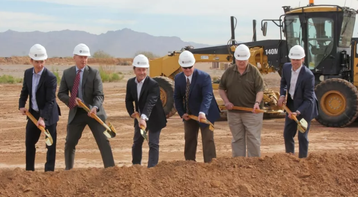 "We're thrilled that EdgeCore has selected Mesa, Arizona as the site for its first North American data center campus," Governor Doug Ducey said.
"We're focused on making sure Arizona remains the ideal place for technology companies to succeed over the long-term, and this impressive project shows we're achieving that mission. I thank EdgeCore for their commitment to our state."
The Mesa Data Center Campus is expected to eventually grow to seven buildings, totaling more than 1.25 million square feet (116,100 sq m). The facility is part of Mesa's Elliot Road Technology Corridor, also home to Apple's global command center and a Niagara Bottling production facility.
The first data center at the campus is expected to open in late 2018.
Meanwhile, preliminary work continues in Reno as the company hopes to score a tax break on its planned 1.1 million square foot (102,193 sq m) data center at the Tahoe Reno Industrial Center - also home to a Switch facility and a Google site.
The board of the Governor's Office of Economic Development is expected to approve $26.3 million in tax abatements to EdgeCore, the Las Vegas Review-Journal reports.
Should that happen, construction work is expected to begin shortly - again in phases, culminating in a site with 225MW of power capacity. The first building icould open early next year.
The company is also targeting Richardson, Texas, along with three other, as yet unknown, US locations.